Caravan / Motorhome System
THE DATATAG CARAVAN / MOTORHOME SYSTEM HAS BEEN DISCONTINUED
The page is for information purposes only for customers who may have purchased a system and are yet to register. All purchased systems are still valid and able to be registered. If you would like to mark you Caravan we recommend the Datatag Trailer System
---
Caravan / Motorhome Security System
Tech Overview: Datadots® | RFID Transponders
Some 1600 touring caravans are stolen each year. The Datatag electronic identification system is designed to act as both a deterrent against theft and as a powerful way to recover in the event of a theft. The system is designed to be installed by the owner of the caravan or motor home. It is easy to install and an effective theft deterrent.
Installation of the Datatag security technologies gives the caravan or motor home a unique "fingerprint" that can be established, by the police or the insurance industry, in a number of different ways. The liquid DNA and Datadots® can be applied to the caravan contents, TVs or cookers for example. The unique identity is virtually impossible to remove, how ever hard a criminal may try.
All UK Police Forces have been equipped free of charge with thousands of special Datatag scanners that are specifically programmed to read the Datatag electronic transponders, which help the police to gain the upper hand and defeat criminals and their networks.
The main benefits for the police, compared to other tagging systems, is that with this new system they are already equipped with the scanners to conduct a roadside check and they can contact Datatag call centre at any time of day or night 365 days a year.
The police can establish the caravan or its contents true identity from the tamper evident registration number or the "electronic fingerprint" from the Datadots and forensic DNA even if the caravan has been modified or painted.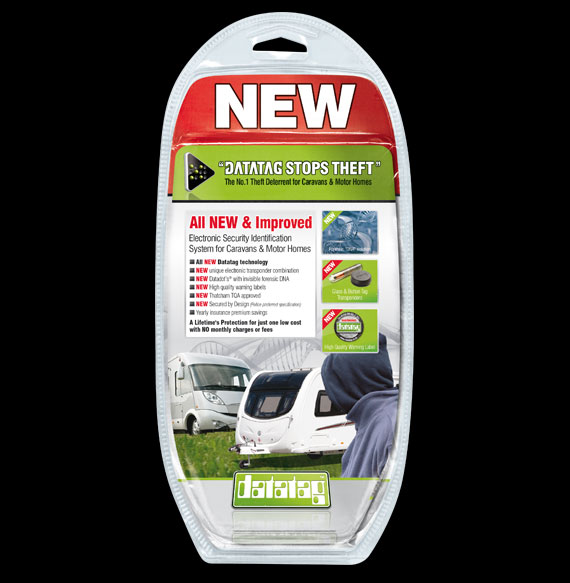 Caravan / Motorhome Technology
Caravan / Motorhome Theft Data
Some 1,600 touring caravans are stolen each year.
As few as one in four of these caravans are ever recovered.* There are around a half a million touring caravans throughout the UK, some of which are over 30 years old. There are around 60 manufacturers of caravans throughout Europe, over 20 of which are based in the UK. Between them they produce nearly 600 different models each year, so identifying the make and model of a caravan can be difficult
* source ACPO (The Association of Chief Police Officers)
Datatag - A unique layered approach to crime prevention and asset identification