4x4 / Car Security System
Tech Overview: UV Etch | Datadots® with DNA | RFID Transponders | Warning Labels
4x4 auto theft is a major problem. Often Police cannot identify stolen vehicles or stripped parts because the original manufacturers serial numbers have been deleted, changed or cloned making it impossible to prove theft, prosecute the thief and return the vehicle to the true keeper.
Market leading Datatag have been successfully combating this problem for years and have developed one of the most powerful theft deterrents available using state of the art identification technologies that are virtually impossible to remove, change or clone. This system is probably the most sophisticated security marking systems ever developed to deter theft and defeat the criminals.
A Lifetime's protection for just one low cost with NO monthly charges or fees.
Our state-of-the-art stealth identification technology will not deface your vehicle. The Datatag security and identification 4x4 system has been specifically designed for Land Rovers and other 4x4 makes. Datatag have successfully deterred auto theft and helped to stop vehicles being stolen and stripped for their parts or cloned and sold on to unsuspecting buyers.
PDF Downloads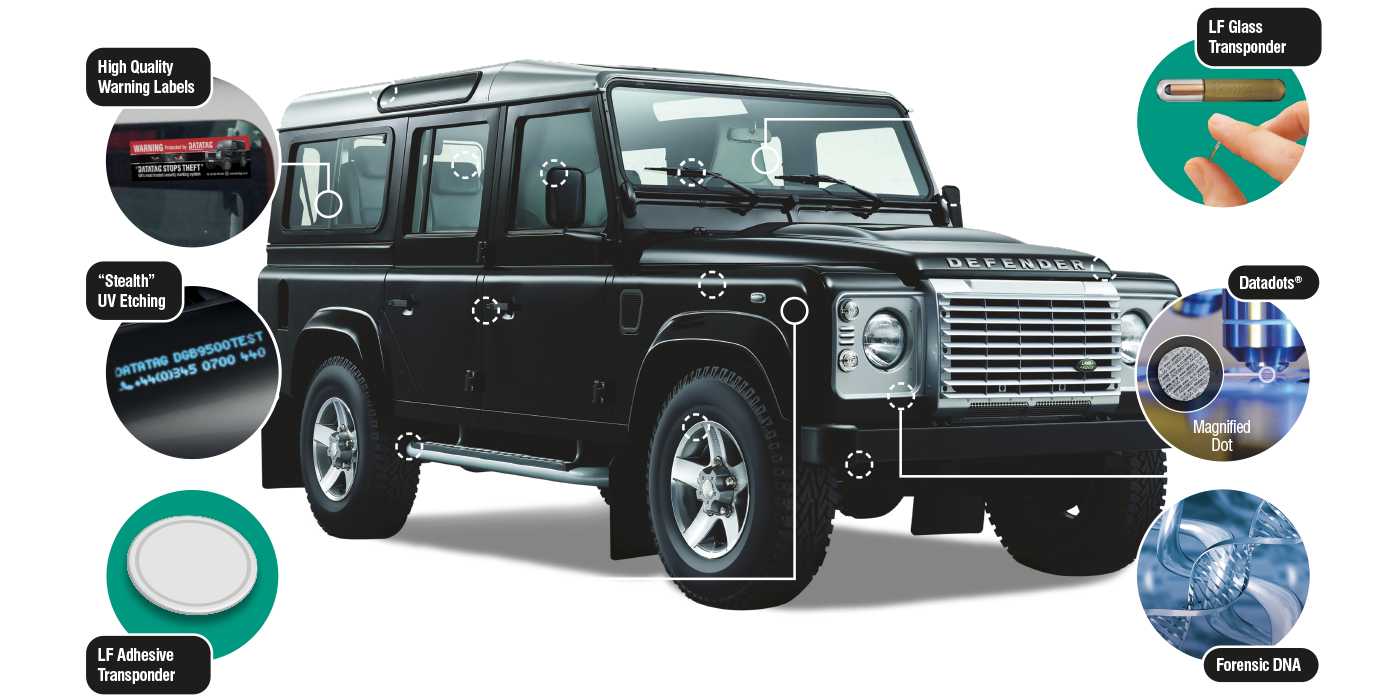 4x4 Crime - The Real Truth
The older the car, the more likely it is to be stolen!
Regardless of age, the Land Rover Defender is a prized vehicle, not only by owners. Thieves love them too.
According to a recent survey,* the Defender is the UK's 4th most stolen vehicle and in some parts of the UK, thefts of Defenders is reaching epidemic proportions. Police believe that most Defenders are stolen to order and then broken for parts, or rapidly exported in containers, meaning that the chance of seeing your cherished vehicle again is very slim at best. According to the British Crime Survey, the average cost incurred by a victim of car theft is £2,345 with an additional £347 due to the goods inside the car at the time of it being stolen.
Don't let your Defender go un-defended this year; protect it from attack from thieves with the new Datatag 4x4 Security System. A proven deterrent to theft, the Datatag 4x4 Security System uniquely marks the essential components and parts of your vehicle with multiple layers of cutting edge technologies to make your Defender easily and quickly identifiable - even if its in bits!
Home Office and Police CPI Approved, Datatag is the ultimate 4x4 theft deterrent.
*Source: Tracker Stolen Vehicle Survey
Datatag - A unique layered approach to crime prevention and asset identification