Cycle UV Security System
The UK's most trusted forensic marking and theft deterrent systems for your bicycle.
"DATATAG STOPS THEFT!"
---
What is it?
The system consistes of multi-layered security marking technology - View Video
Visible and stealth identification technology marks your whole bike
(not just your frame but valuable components such as forks, wheels, etc.)
Easy to install and simple online registration
Why fit it?
True identification of ownership with registration specific to you
Acts as a true deterrent to theft
(thieves will generally target bikes that don't have Datatag fitted)
Aids the Police in recovery and identification of ownership
(with thousands of bikes stolen each year most are never returned to their rightful owners - a Datatag system can overcome this problem)
Unique benefits of having the system installed on your bike
Potential insurance premium saving
(many insurance companies offer reductions when fitted with Datatag)
Lifetime protection / One low cost / NO hidden or monthly fees
Easy transfer of ownership
How to buy?
Visit our online shop for quick and easy purchase:
---
Fitting Instructions
---
Further Description
At a time when bike interest is at its highest for many years, so unfortunately is bike theft with over 500,000 cycles reported stolen each year. A figure which hides the true picture as over half of all cycles stolen are from homes, a crime listed as a burglary, and many more go unreported. See more
The increasing trend of breaking down modern high end bikes to sell on the components means protecting an entire bike, and not simply the frame, is vital in the fight against crime. This is where DATATAG, security experts already trusted to provide the technology behind many official industry schemes come in.
The UV "Stealth" system offers a multi-layered approach to cycle security. Recent theft figures for all cycles marked with the new Datatag Stealth systems indicate a theft rate of just 0.5%. This is an incredible result as according to the police the historic average is 10%, with road.cc suggesting it's actually as high as 20%. The Police recover thousands of cycles each year but due to a lack of crime reporting and a lack of owner registration many are simply sold at auction and never returned to their rightful owners. A Datatag system will not only help deter theft but will also help in reuniting you should your bike be stolen and recovered as it provides undeniable proof of ownership.
The Datatag systems offers premier identifiers combined with probably the most comprehensive database of its kind in the market today. Equally importantly, Datatag works with the Police to back up the product and provides free database access on a 24/7 basis as well as technical training. Owners of Datatagged cycles can also benefit from reduced premiums from some of the major insurers.
Recent statistics show a Datatag protected cycle is 40 times less likely to be stolen!
For cycle security there is only one choice.
---
PDF Downloads
---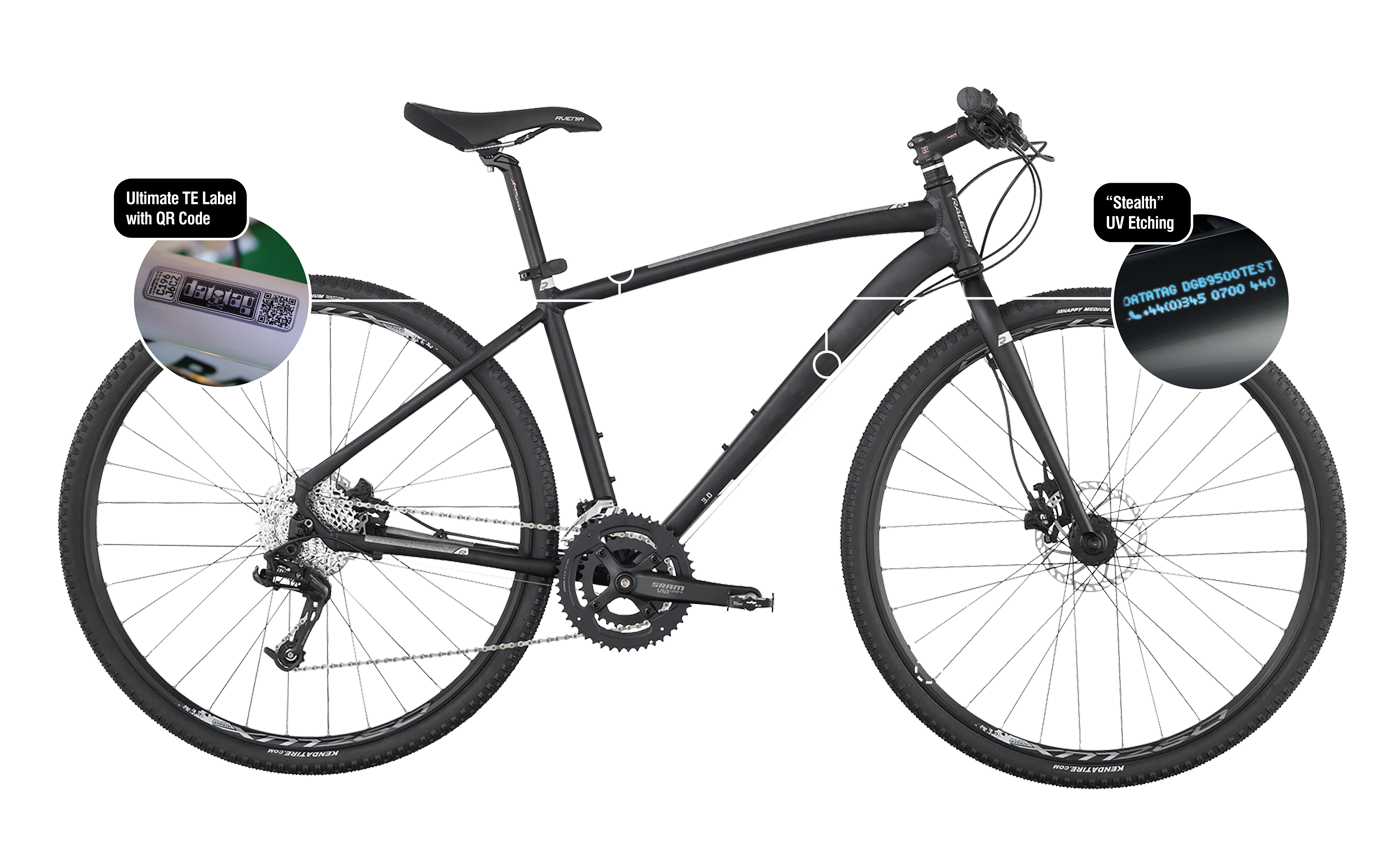 Cycle Theft Facts
MYTH: Police never find stolen bikes...
FACT: The Police recover many thousands of stolen bikes every year. But with no link to owners many are sold at auction and not returned.
MYTH BUSTED!
MYTH: Expensive bikes are sold on through unscrupulous dealers or on line...
FACT: Expensive bikes become parts within hours of being stolen and frames are junked. Components, often more valuable than frames, are sold with zero risk to thieves as they have no identifying marks or numbers. Recovery rates as low as 5% supports this evidence.
MYTH BUSTED!
MYTH: You can identify your bike on line when the thief tries to sell it!...
FACT: Even if you do find your stolen bike on line, proving that it is actually your bike is very difficult - often impossible - so trying to get police to take action is very hard.
MYTH BUSTED!
Datatag - A unique layered approach to crime prevention and asset identification