Datatag Latest News
Tweet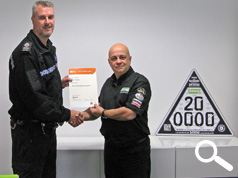 A SURREY POLICE OFFICER COMPLETES ALL THREE IMI AWARDED DATATAG COURSES
Surrey police officer Vince Priseman is the first UK police officer to complete all three Institute of the Motor Industry (IMI) level three Datatag and AITS Auto crime courses. AITS, in partnership with leading security marking technology company Datatag, provide a range of IMI Quality Assured Awards in this field.
Based in South Cerney, Gloucestershire, AITS teamed up with Datatag to develop the three courses designed for enforcement agencies, police officers, customs and border control officers involved in the detection and recovery of stolen vehicles, construction equipment and agricultural machinery.
Datatag ID Limited, a powerful name in security, is behind many nationwide security schemes such as The Official CESAR Scheme for Construction and Agriculture, The MASTER Scheme for Motorcycles, the newly developed COMPASS Scheme for the Marine Market and Venom, an innovative deterrent against fuel theft.
Datatag ID Limited has powered the CESAR scheme from 2007 for the construction market with the support of the Construction Equipment Association (CEA) and then later the scheme was adopted by the agricultural market with the support of the Agricultural Engineers Association (AEA). CESAR is the most successful industry security initiative of its type in the world and is fitted on productions lines in the UK, Europe and the USA by leading manufacturers. CESAR has the full support of governing bodies and police officials, as well as leaders in the insurance industry who offer various discounts, some  up to 25%, for CESAR marked equipment. 
The courses are led by Datatag's Police Liaison and Training Officer Nick Mayell, an experienced vehicle crime expert, who recognised the importance of refreshing officer's knowledge when dealing with audacious and opportunistic vehicle and equipment crimes.
Nick recognised the challenges of tackling crime namely that there are frequent changes of staff in police departments often diluting police knowledge. Nick also understands with his thirty two year experience that criminals become more knowledgeable and more sophisticated.
Vince Priseman completed the three courses at the end of 2014 and had this to say on receiving his award "I'm delighted to have completed the three courses which have given me further knowledge and experience to deal with stolen vehicles and machinery. Whilst I'm the first to complete all three courses I'm sure I won't be the last"
The three courses; Plant and Agricultural Machinery Theft Awareness and Identification, Stolen Vehicle Identification and Vehicle Identification and Methods of VIN Recovery, have previously only been offered as individual courses but shortly Datatag and AITS are set to give students the opportunity to complete all three courses in a week.
In response to demand, the initiative to host the three courses in a single week was taken by Datatag's Nick Mayell and Richard Goddard of AITS. They hope this will be a way of providing a more convenient and cost effective solution for delegates who travel from across the UK and overseas to further their knowledge in these important areas of police work.
The first one week programme is scheduled for March 2015 - for further information visit http://datatag.co.uk/training.php