Datatag British Superbikes Official Sponsor - Round 4 Knockhill
British Superbikes Round 4 Knockhill 27th-29th June 2013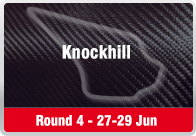 Kiyo denied double Knockhill win by battling Byrne
Ryuichi Kiyonari proved that he is back and means business in the MCE British Superbike Championship at Knockhill, narrowly missing out on the double win when Shane 'Shakey' Byrne took advantage of a mistake from the triple title-winner to score the victory by 0.176s.
Byrne had made amends for a poor start in the first race to fire off the line into the lead at the start with Kiyonari giving chase ahead of Josh Brookes and Stuart Easton. The leading Milwaukee Yamaha rider then lost ground and Easton and then the Lloyds British GBmoto Racing Kawasaki of Chris Walker moved ahead, pushing Brookes back to fifth.
At the front Byrne was coming under increasing pressure from Kiyonari with the pair almost touching on several occasions before the Buildbase BMW made a decisive move down the inside at the Hairpin to hit the front of the pack. Byrne then switched roles and the Rapid Solicitors Kawasaki rider was shadowing his Japanese rival; Kiyonari initially held the advantage but then a mistake on the exit of the Hairpin saw him save a dramatic high-side which gave Byrne the opportunity he needed. Like a red rag to a ball Byrne launched himself back to the front, but with a gap of 0.8s to close a determined Kiyonari gave chase again.
As the laps counted down Kiyonari was edging closer with every circulation and as it came to the final lap he was back on the rear Pirelli of his rival Byrne. Left and then right Kiyonari looked for a way ahead, but despite his best efforts he finished second as the pair crossed the line inseparable.
Kiyonari said: "I am disappointed that we didn't win again, but I made some mistakes and it was my fault. Shakey is very fast and when I passed him I knew he would try and pass me again. It was a difficult race but I am happy that I could show that I can still win and have podium. I need to thank my team and I want to go to Brands Hatch now, it is my favourite circuit, and win again. I will keep trying because we can win." 
Walker had been holding off the challenges from Brookes and despite a broken finger he lived up to his 'Old but Gold' slogan by claiming third, with Easton on the second Rapid Solicitors Kawasaki completing the top five.
Dan Linfoot had another strong finish in sixth place on the Quattro Plant Kawasaki ahead of Tommy Bridewell and James Ellison who had fought his way through the field. Richard Cooper and Michael Rutter completed the top ten.
MCE Insurance British Superbike Championship, Knockhill, race two result:
Shane Byrne (Rapid Solicitors Kawasaki)
Ryuichi Kiyonari (Buildbase BMW) +0.176s
Chris Walker (Lloyds British GBmoto Racing Kawasaki) +6.349s
Josh Brookes (Milwaukee Yamaha) +7.975s
Stuart Easton (Rapid Solicitors Kawasaki) +10.595s
Dan Linfoot (Quattro Plant Kawasaki) +14.755s
Tommy Bridewell (Milwaukee Yamaha) +16.838s
James Ellison (Lloyds British GBmoto Racing Kawasaki) +17.762s
Richard Cooper (Anvil Hire TAG Kawasaki) +20.479s
Michael Rutter (Bathams BMW) +20.943s
MCE Insurance British Superbike Championship standings after Knockhill:
Shane Byrne (Rapid Solicitors Kawasaki) 190
Josh Brookes (Milwaukee Yamaha) 111
James Ellison (Lloyds British GBmoto Racing Kawasaki) 108
Tommy Bridewell (Milwaukee Yamaha) 88
Ryuichi Kiyonari (Buildbase BMW) 82
Chris Walker (Lloyds British GBmoto Racing Kawasaki) 76
Kiyo claims first pole since 2010 by just 0.004 seconds at Knockhill!
Japan's Ryuichi Kiyonari claimed a sensational pole position at Knockhill as the triple champion edged out Josh Brookes by just 0.004s on his final lap to return to the top spot in Datatag Extreme Qualifying for the first time since 2010.
The pole position was intensely fought over in the final minutes of the session with a rapid six changes to the position at the top in the final minutes of Q3 but it was Buildbase BMW who claimed their first pole of the season. The top ten fight for pole position saw four nations covered by just +0.569s.
Kiyonari was delighted with the result, he said: "I am very happy, because the last session was hard because you did a lap, went faster and then went back positions as everyone was pushing so much. I thought I could have gone faster, but I was nervous and I kept making mistakes and then the last lap I just thought 'go' and we did it. I am happy for the team and I will try and do it again tomorrow. We will push hard and hopefully we can win, or at least be on the podium."
Initially Tommy Bridewell had gunned in the first flying laps to post the fastest time with the Milwaukee Yamaha rider pushing hard. He will drop three grid positions for tomorrow's opening race after his delayed response to the black/orange flags in free practice three this morning, so after dropping to seventh will start tenth on the grid.     
Shane 'Shakey' Byrne then went fastest on the Rapid Solicitors Kawasaki but he wasn't holding the position for long as Brookes went to the top for Milwaukee Yamaha. Again the Australian held it for less than a lap's time with Stuart Easton then moving ahead, only for the Scot to be displaced by Brookes again in the closing minutes.
Brookes was back in the pitlane with spots of rain at certain sectors but Kiyonari wasn't done with his fight for the pole position and the triple champion proved he is truly up for the battle with a final lap that fired him to the top.
Brookes and Byrne complete the front row with Easton heading row two alongside James Ellison and James Westmoreland on the second Buildbase BMW. Jakub Smrz was back in the top ten for the Millsport Ducati team and is joined on the third row by Chris Walker and Michael Rutter.
Ian Hutchinson had his stint in Q1 ended dramatically with a huge high-side off the FFX Yamaha, the TT legend was able to walk away from the crash but he will start 23rd on the grid for tomorrow's opening race.  
MCE Insurance British Superbike Championship, Knockhill, Datatag Extreme Qualifying:
Ryuichi Kiyonari (Buildbase BMW) 48.112s
Josh Brookes (Milwaukee Yamaha) +0.004s
Shane Byrne (Rapid Solicitors Kawasaki) +0.118s
Stuart Easton (Rapid Solicitors Kawasaki) +0.060s
James Ellison (Lloyds British GBmoto Racing Kawasaki) +0.095s
James Westmoreland (Buildbase BMW) +0.185s
Jakub Smrz (Millsport Ducati) +0.214s
Chris Walker (Lloyds British GBmoto Racing Kawasaki) +0.450s
Michael Rutter (Bathams BMW) +0.569s
Tommy Bridewell (Milwaukee Yamaha)
Datatag Extreme Qualifying from Knockhill