Datatag Latest News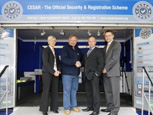 THE AGRICULTURAL INDUSTRY GETS BEHIND CESAR
The official CESAR security and registration scheme kicked off its drive into agriculture with united support from the industry at the annual Tillage equipment show organised by the Agricultural Engineers Association (AEA). Roger Lane-Nott, Chief Executive of the AEA, told the press that the agricultural industry needs to get behind this ground breaking scheme to help eradicate the growing problem of equipment theft. This is a timely initiative as figures released by NFU Mutual show a sharp rise in farm thefts. Their annual rural crime survey, released at the Royal Show in July, shows that farm equipment thefts rose by 16.5% across the UK while tractor thefts rose by 5.5%.
Also at the show, to lend support to the launch, was Chief Inspector Will Young head of the Plant and Agricultural National Intelligence Unit (PANIU). This specialist unit is responsible for national intelligence and for co-ordinating activities between the various UK police constabularies. PANIU also liaises with the police overseas, including Europol and Interpol, to help identify and track stolen equipment from the UK, establish its true identity and repatriate it. New statistics issued by PANIU show that a machine without CESAR is 4 times more likely to be stolen than a CESAR registered machines. Plus, the recovery rate for 'unregistered plant' is as low as 5% but the recovery rate for stolen CESAR machines has increased to almost 30%, in the second quarter of 2009, 6 times that for 'unregistered plant'.
Kevin Howells, Director of Datatag ID, and an expert on machinery theft commented after receiving the support of the AEA; "I'm delighted that the AEA has pledged its total support for the official CESAR scheme especially as new figures from PANIU show the schemes effectiveness as a deterrent and in effecting recovery.
Unfortunately farms are increasingly being targeted by organised criminals and machinery security and registration should be seen in a similar light to farm safety, namely an issue for everyone to tackle with the proper focus, resources, training and motivation. We shall be announcing support from leading insurers soon who are keen to provide incentives for security conscious customers. Several major agricultural equipment manufacturers will be making significant announcements shortly as they gear up to fit CESAR during the manufacturing process.
However, farmers needn't wait as CESAR can be easily and cost effectively fitted to existing equipment for a very low one-off cost, with equipment being protected and registered for life. Insurance premium discounts are available from leading insurers for machines fitted with CESAR which offsets the cost of fitting the system to existing machines, a win-win situation".
CESAR has to be fitted by accredited technicians who have been thoroughly trained by Datatag and the police and approved by the CEA or the AEA. Several manufacturers' dealers and national hydraulic hose replacement specialists Pirtek are equipped to fit CESAR in the agricultural market. For more information or to find the nearest authorised technician go to the CESAR website at www.cesarscheme.org
At a time when equipment theft is on the increase CESAR provides a cost effective anti-theft deterrent and an invaluable and unique way of establishing a machines true identity and aiding recovery.