Datatag Latest News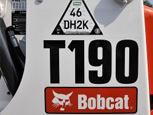 TRAVIS PERKINS ENDORSE CESAR
Travis Perkins, the UK's leading builders' merchant, has announced that it has specified the fitment of CESAR on all its new construction equipment for its hire operation.
The official CESAR scheme, which has been running for approximately 2 years, was designed to protect and register all types of agricultural and construction machinery. It is supported by many major manufacturers who fit CESAR to the machines they supply into the UK. Over 23,000 machines have been registered in the scheme since its inception and the triangular registration plate is now a familiar sight in construction.
The first machines to be delivered to Travis Perkins with CESAR are 240 Bobcat mini-excavators, in a range of sizes from 0.75 to 2.5 tonnes, and 40 ES100 skid-steer loaders. The order, worth over £3.1m, will be completed by the end of August with machines going to 124 of Travis Perkins 185 Hire branches nationwide.
Richard Dey, Group Hire Director of Travis Perkins, commented at the announcement: "We're all aware of the threat and the cost of plant theft. CESAR is an effective deterrent against theft and should the worst happen a unique aid to recovery. We owe it to our customers to minimise the risk of theft and the disruption it causes. We have no hesitation is specifying and endorsing CESAR".
New statistics issued by the Plant and Agricultural National Intelligence Unit of the Met Police show that a CESAR registered machine is 6 times more likely to be recovered, than an unregistered one, which is 4 times more likely to be stolen in the first place!
CESAR registration allows the police to check on a construction machine in exactly the same way as they would a car through the police national computer (PNC). Police forces up and down the country are equipped with Datatag scanners that can 'read' the hidden transponders in a machine to help identify the rightful owner even if the registration plates have been removed. The Datatag system that is fitted to the Bobcat machines includes a number of hidden miniature security transponders, liquid 'DNA' which is painted on the machines in a number of places and Datadots®, miniature microdots which are suspended in the liquid DNA. The machines are also fitted with two 'tamper-proof' registration plates with a unique number that is registered on the DVLA computer to which the police have access around the clock.
Chris Harrison, National Sales Manager for Datatag had this to say: "We're clearly delighted that a prestigious group like Travis Perkins has decided to insist on CESAR to protect its equipment and safeguard its customers. The latest crime statistics show an increase in machine thefts but CESAR is increasingly being shown to be to be both a powerful deterrent against theft in the first place and an indispensable aid in machine recovery. Travis Perkins is to be applauded for taking this stance".