Datatag Latest News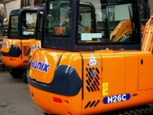 HANIX - FIRST MINI EXCAVATOR MANUFACTURER FOR CESAR O/E – STANDARD FITMENT
From 1st July 2008, Hanix Europe Ltd will fit CESAR Identification Technology to its entire range of Excavators. With Mini Excavators being an important addition, throughout building and construction sectors, particularly for ground works and landscaping, they are recognised as a particularly high-risk equipment area in the construction market. Because of their portability – a flatbed trailer can be sourced to transport mini excavators very quickly – as a result they have become a ready target for theft. Hanix is the first Japanese manufacturer within the sector to address this problem and to fit CESAR Identification Technology as standard, offering greater security and peace of mind to its customers.
Commenting on the adoption of CESAR Identification Technology, Hanix Company Secretary Hifumi Ogasahara said, "We see the adoption of CESAR as a major benefit for our customers. Their investment is immediately protected and the prominent CESAR anti theft ID, means that any opportunist thief will certainly think twice and be deterred by the fact that, each Hanix excavator has its own unique security DNA. This is genuine value added to our products because we recognise that many of our customers are smaller companies who do not necessarily have huge purchasing budgets, but equally, cannot be in a position where their machinery is unavailable due to theft, since it can put their contracts and even their very livelihoods at risk. As we celebrate our 20th year in the UK, we regard this as a major enhancement to what has always been recognised as a high quality Japanese-manufactured product range. From our standpoint, it immeasurably strengthens our competitive standing in the market."
For further information on Hanix Mini Excavators and the CESAR scheme, please see www.hanixeurope.com.
Datatag's Chris Harrison commented, "Hanix Europe Ltd have shown their commitment to the CESAR scheme by commencing standard fitment to all UK and Irish-bound excavators from 1st July 2008. Hanix are the first Japanese Mini Excavator manufacturer to fit CESAR as an OE standard and they are showing that they understand their customers' concerns about plant theft. CESAR, powered by Datatag, offers greater peace of mind due to reduced risks of theft and every Hanix Mini Excavator, will now be parallel-registered with the DVLA ORR. So, end users will effectively have a log book and greater provenance of their machine."