Datatag Latest News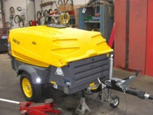 £1.1 MILLION STOLEN EQUIPMENT RECOVERED IN JUST TWO WEEKS!
Between 26th April and 11th May 2008 the National Roads Policing Intelligence Forum (NRPIF) together with the ACPO Vehicle Crime Intelligence Service (AVCIS) and Ports Police around the UK took part in Operation Crassus to try to identify the amount of stolen plant being moved on the strategic road network. The newly formed Plant and Agricultural National Intelligence Unit supported them.
A large quantity of items were recovered including rollers, trailers, mini excavators, back fillers, back diggers, Bobcats, Dumpers, JCB buckets, compressors, generators, tractors, whacker plates, telehandlers and other miscellaneous items. One piece, an excavator recovered was worth £200,000. There were a number of stolen vehicles from high value cars, to Land Rovers, Transits and Daf goods vehicles along with several stolen lorry wheels and caravans. The total recovered was worth in excess of £1.1million.
A quantity of items were recovered at different Ports either in loading sites or in containers where they were bound for both Europe and Africa, never to be seen again.
Kevin Howells director of Datatag, incorporates the CESAR plant marking scheme said, "Op Crassus clearly demonstrates what can be achieved when we adopt a joined up approach – the Cesar scheme is gathering tremendous pace with major manufacturers both in UK and Europe. With the recent announcement of the new Thatcham security star rating accreditation scheme, it will only be a matter of time before all equipment will be protected and registered.
I would like to commend all the police officers and forces who took part in this operation and would encourage Op Crassus to become a regular method of denying criminals the use of the roads."
Chief Superintendent Geraint Anwyl Chair of NRPIF said, "Theft of plant is all too common and results in huge disruption and economic loss. This operation has provided a snapshot of the sheer scale of the problem and will inform further enforcement activity in the future."