Datatag Latest News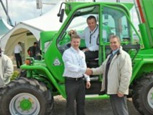 HANDLER GIANT MERLO NAMES CESAR ID AS OE FIT
Explaining the rationale behind the decision, Bill Bennell, Merlo National Sales Manager - Construction said, "It is essential with plant theft today that we can offer customers the potential to protect themselves. CESAR adds customer value to the machine, giving protection to them and limiting insurance costs, which due to the problems the industry has been facing have seen premiums going through the roof. We think it is particularly important in our agricultural market of which we operate 50% agricultural and 50% construction as farmers are more likely to leave their machines overnight."
CESAR ID will be fitted to Panoramic Telehandlers, Roto Slewing Handlers, DBM Self-loading Mixers, Cingo Tracked Carriers, Multifarmer and Turbofarmer. Giving an example of potential loss of such plant Bill Bennell continued, "Our CE machines are a typical example. Roto would be £100,000 worth of machine in a single hit, so £100 to install CESAR is minimal in relation to its value. Initially CESAR was going to be trialled with our demonstration fleet but the idea has grown and it has become very clear how important CESAR will become, especially with the support of the police and local authorities."
Said Datatag ID Ltd Director Kevin Howells, the operator of the CESAR scheme, "The addition of CEA member Merlo to the manufacturers now installing CESAR to their product range, demonstrates how seriously the issue of plant and equipment theft is being taken. With OE fit CESAR Identification Technology, the potential for plant and equipment theft is considerably lessened and, should it occur, the likelihood of recovery is hugely increased."