Datatag Latest News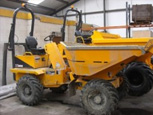 CESAR PLANT RECOVERY UNDER INVESTIGATION
The stolen equipment comprised a 3-tonne Thwaites Site Dumper and an Atlas Copco Generator, hired from J. F. Hunt. It had been stolen during the weekend, possibly on Sunday and was reported stolen by company personnel on Monday. Prior to the theft it was booked on ship to Jamaica the following Thursday. The criminals behind the theft employed a transportation agent to collect the equipment from the hirers and deliver it overseas, unbeknown to the deliverer that it was stolen equipment. The thieves were therefore able to 'keep their hands clean.'
But acting on information and intelligence on Tuesday about the theft and the fact that the equipment was CESAR'd, the Met were able to recover the dumper and generator the following day. On Thursday the recovered plant was returned to the original hire company, J.F. Hunt. The value of the recovered equipment was in excess of £50k.
Said Martin Redhead, "We have focussed on this one particular crime because it demonstrates just how easy it is to steal plant equipment. Luckily because it had been Cesar registered it was identified and returned to its rightful owners in LESS than 1 week. Amazingly, it was NOT reported as stolen on the PNC (Police National Computer) – Serial Numbers of machine, unknown by reporters of the theft.
Summing up the success of Operation CRASSUS, Martin Redhead commented, "It's scary how easy it is for thieves to do their job. If it wasn't for the equipment having been CESAR marked the equipment (like the £1Million worth of equipment that is stolen every week) would never have been returned back to its rightful owners. This is one of the many CESAR recoveries over the course of the two weeks of Operation CRASSUS campaign, which signifies the initiative as a major success. Police Forces nationally are now very proactive in focusing on combating plant theft and with CESAR Programme in full swing a huge impact on plant crime is expected."