Datatag Latest News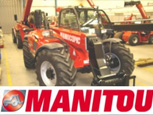 MANITOU BECOMES 1ST MANUFACTURER TO FIT CESAR AS STANDARD TO AGRICULTURAL AND CONSTRUCTION EQUIPMENT
From 2nd April 2008, CESAR Identification Technology will be fitted to all Manitou equipment for the Construction and Agricultural sectors. The ACPO and Home Office supported Identification Technology scheme combats equipment theft, estimated in the Construction sector alone to be running at a massive annual total of around £500m per annum. In the Agricultural sector there is a growing incidence of Tractor and specialized equipment theft, with minimal recovery, as recent extensive press exposure has confirmed and Manitou has now become the first agricultural equipment manufacturer to address the issue via the CESAR scheme.
CESAR – The Construction Equipment Security and Registration Scheme – was originally proposed by the Plant Theft Action Group (PTAG) and has the support of the Home Office and ACPO. (Association of Chief Police Officers). The CEA (Construction Equipment Association), the scheme's promoter, is the leading trade association representing equipment and machinery manufacturers and associated UK industries and the CESAR scheme operator is Datatag, the European market leader in Security Identity Systems within the Construction and Plant sectors and the Leisure and Recreational sectors. CESAR Identification Technology is designed for application to any item of Construction or Agricultural equipment and this is carried out by Manitou as soon as their equipment arrives in the UK. Each Manitou will be protected with unique tamperproof ID plates, miniature transponders or "chips", hundreds of Datadot's and an invisible forensic DNA solution for ease of recognition by the Police and the operating sector. This ensures that every Manitou will literally have it's own electronic fingerprint and unique DNA registered on the Datatag secure accredited 24/7 database, with appropriate vehicles also registered with the DVLA to prevent criminals changing the identity of stolen equipment.
Said Ivor Binns the Chief Executive of Manitou: "Manitou UK Limited are the first major OEM (Original Equipment Manufacturer) to fit as standard the Cesar anti-theft registration system on both construction and agricultural telehandler models. Ivor continued "The increasing theft of agricultural machinery in particular tractors, telehandlers and A.T.V.'s has prompted Manitou in the UK and Ireland to fit the Cesar system to all Manitou product as from 2nd April 2008." Ivor also commented "With the world's largest telehandler manufacturer supporting the Cesar system it is underlining the important role Cesar is playing in combating plant crime"
Datatag's National Sales Manager, Chris Harrison commented, "We are delighted that Manitou, the world's leading terrain handler manufacturer, has joined the CESAR scheme and is fitting CESAR across the entire Construction and Agricultural equipment range. This is a major coup for CESAR with another leading manufacturer not only being in the forefront of development with the scheme but also ensuring that their customers have complete peace of mind through fitting Datatag Identification Technology. The fact that this now also encompasses the Agricultural sector is a 'first' and it will undoubtedly be a principal factor in combating theft in this area."