Datatag Latest News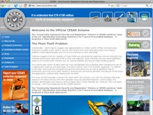 CESAR WEBSITE LAUNCH BOOSTS FIGHT AGAINST PLANT THEFT
The CESAR – the Construction Equipment Security and Registration initiative – has further strengthened its industry profile with the launch of a dedicated website (www.cesarscheme.org) that is a unique information resource for CESAR dealers and both current owners and future buyers of construction plant. Already, the Home Office-backed industry-wide initiative by the Plant Theft Action Group (PTAG) has generated huge interest in its UK-wide campaign to stamp out construction plant theft, estimated to be running at an annual total of £100 million, with minimal recovery.
The new CESAR website has been designed to be search engine and user-friendly and easy to navigate. Featuring Panorama Width Technology with flash features and dynamic graphics and linking directly to the CESAR promoted by CEA and powered by Datatag postcode-linked Dealer Locator page. The site incorporates regular news updates and downloads and a Links/Support page to partner websites, including JCB, Clancy Docwra, Terex and Pirtek. A unique feature is the Stolen Equipment Register, with a Hot-Button link for posting details of stolen equipment direct to the 24 hour call centre. The CESAR range of fitments/products is also detailed on the site.
CESAR domains include www.cesarscheme.org, cesarscheme.com and cesarscheme.co.uk. There is also a dedicated hotline number for CESAR – 08 450 700 440.
Datatag Director Kevin Howells said, "The tremendous response to the CESAR promoted by CEA and powered by Datatag initiative will be further enhanced with the launch of the website. Companies whose plant is CESAR registered are far less likely to get their equipment stolen, but if the worst happens, recovery is far more likely. This is another significant advance in the campaign to combat UK plant theft."