Datatag Latest News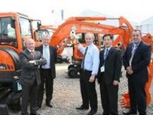 DOOSAN IS FIRST MANUFACTURER TO IDENTIFY ITS EQUIPMENT AS PART OF THE CESAR SCHEME
Doosan Infracore UK is the first construction equipment manufacturer to fit Datatag systems as standard to its full range of excavators, wheeled loaders and skid steer loaders as part of the Construction Equipment Security and Registration (CESAR) scheme developed by the influential Plant Theft Action Group (PTAG) in conjunction with the Construction Equipment Association (CEA).
Commenting on the decision to embrace the scheme, Doosan's national sales manager Kim Dudley said: "We could immediately see the many benefits CESAR offered our customers - not the least of which is a potential insurance cost saving of up to 20%."
Datatag, the chosen delivery partner for the CESAR scheme, will now be equipping all Doosan machines with unique, tamper-proof identification plates as well as a variety of covert items such as Datatag DNA and Datadots which will enable the police to quickly identify the registered owner via the Cesar database.
Mr. Dudley adds, "We see this scheme as the future for plant security and, hopefully, it will result in a major reduction in the estimated £1M of plant currently being stolen in the UK every week."