Datatag Latest News
Tweet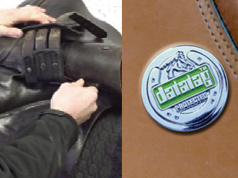 MOUNTED POLICE PROTECT SADDLES WITH DATATAG!
Feature article in the July edition of the NFU Countryside Magazine.
Thames Valley Police Mounted Section has added Datatag's state-of-the-art technology to their expensive saddles. And thanks to our fantastic competition, you can too!
The Mounted Section, which has nine horses, is active in combating the persistant problem of rural crime, with a particular focus on equine crime. The Section plays an active and supportive role in the promotion of Horse Watch and advising riders of ways to combat crime and reduce their chance of becoming a victim of theft.
And to demonstrate one of the simplest and most powerful ways of stopping a saddle getting stolen, the Mounted Section decided to protect all of its saddles with the new Datatag Saddle System. Using a robust RFID tag embedded deep in the saddle and a high quality metal warning stud, each saddle is permanently marked. A thief would need to almost destroy the saddle to remove the tag, damaging the very thing that they want to sell! The system is easily installed and, once registered online on Datatag's secure database, will give any police officer access to all of the saddle owner's details via a single telephone call to Datatags 24/7 call centre.
Datatag offers two new security systems focused on the equine sector:
These are the Datatag Saddle Security System, which security marks and registers one saddle and costs around £34.99, and the Datatag Tack Room Security System, to mark and register three saddles (registered to one keeper) and other items of tack, which costs around £99.
Once installed and registered online, there are no additional fees or charges – simply fit and relax; your saddle is protected.
The Datatag equine systems have been endorsed by the National Horse Watch Alliance as a 'preferred security product'. Both systems are simple to install by the customer and come with full instructions: www.datatag.co.uk/equine-installation-video.html
Download the PDF article to read more >