Datatag Latest News
Tweet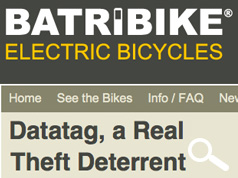 BATRIBIKE: DATATAG, A REAL THEFT DETERRENT
A year ago we announced that we would be fitting the Datatag UV "Stealth" PRO Cycle System to all of our bikes. We have been delighted to work with Datatag and have been pleased with the response from customers and dealers, who have reinforced our decision as a positive move.
We have just heard that there are some recent theft figures for all cycles marked with the new Datatag Stealth systems, that theft rate is running at a remarkable 0.5%.
This is incredibly positive news because the historic average according to the police is 10%, with Road.CC suggesting it's actually as high as 20%.
Datatag tell us that based on these statistics a Datatag protected cycle is 40 times less likely to be stolen!
Datatag is listed among the top cycling products tested and reviewed in the press during the last twelve months. Batribike fits the Datatag UV "Stealth" PRO Cycle System as standard to every electric bike and trike in our range.
Story: Batribike News: http://www.batribike.com/electric-bike-news/datatag-a-real-theft-deterrent/