Datatag Latest News
Tweet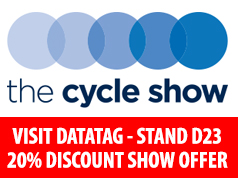 DATATAG AT THE 2014 CYCLE SHOW
With over 500,000 stolen each year, bicycle theft is a big issue. And it's only getting worse according to the Police and security experts Datatag. So what can cyclists do to protect themselves?
With a history in providing class leading security technologies Datatag has the answer in the form of its UV 'Stealth', UV 'Stealth' PRO and NEW Bare Metal Systems.
The UV 'Stealth' System, RRP £24.99, offers virtually invisible UV etching so you can, without spoiling its looks, mark not only your frame but also your forks, cranks and bars so each part is identifiable.
For high end bikes targeted for their components the UV 'Stealth' PRO System, RRP £29.99, is recommended. As well as UV etching the PRO System also features 'Datadots'®, Each contain a unique code, held in a UV trace adhesive, which can be 'painted' into pedals, levers and derailleurs as well as expensive cycling computers. This leaves an indelible, microscopic 'finger print' almost impossible to completely remove. Both systems come with tamper evident warning label designed to complement the look of your bike.
New for this year is the Bare Metal Frame System, designed specifically for the increasingly popular titanium framed bikes. The system is identical to the Pro system with a QR label and Datadots®, but uses special laser cut laminate ultra-destruct labels to discretely mark the frame. The Bare Metal Frame system has an RRP of £29.99.
Datatag's technology has earned 'Secured by Design' status and Thatcham Approved recognition in many markets. Working with the Police has had a significant impact in crime reduction and Datatag is rapidly gaining a reputation among thieves as a don't touch product.
VISIT STAND D23 AND TAKE ADVANTAGE OF THE 20 PER CENT DISCOUNT SHOW OFFER.