Datatag Latest News
Tweet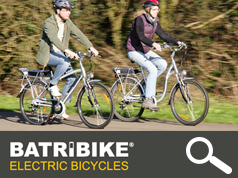 BATRIBIKE TO FIT DATATAG AS STANDARD TO RANGE
With the increase in cycle theft over the recent past, Batribike have chosen to ensure their machines don't fall victim by fitting a Datatag UV "Stealth" PRO Cycle System to all bikes in their range. The deal means that every electric bike that leaves Batribike's Lincolnshire warehouse will have the Datatag system fitted and makes Batribike the first and only Electric Bike brand to fit the system as an OEM fitment their entire range.
The Datatag Stealth UV PRO kit comes with
A stealth 'UV' etching
Microscopic Datadots in UV glue
Tamper proof warning label
The UV etching is almost invisible to the naked eye and only reacts under UV inspection, thus keeping frames looking pristine whilst the Datadots, each containing a unique code, are held in a UV glue and can be 'painted' into hard to reach places in brake levers, derailleurs, seat posts etc providing not only a high level of deterrent but also making identification an easy job for the Police.  Finally a tamper proof warning label lets thieves know the bike has the highest level of security marking available on the market today.
Datatag's technologies have a proven record in beating crime and results in the motorcycle industry from the Police show a dramatic reduction in theft of protected machines, something DATATAG have already seen in other markets.
Datatag Sales Director Chris Harrison said "We are very pleased to be working alongside Batribike.  Our system, with its multi layered technological approach is unique in the market and will certainly add value to their consumer offering whilst helping to prevent theft of their machines."
Batribike director Sue Coulson said "This is an unprecedented move, fitting Datatag to each and every model in our range, and we believe that there are many advantages to having the system fitted. Our customers often worry about the possibility of theft and Datatag with its proven track record as a theft deterrent will bring peace of mind."
The move reinforces Batribike's position as a major electric bike brand in the UK, offering high quality technology at affordable prices. 
Datatag will be exhibiting at the London Cycle Show, ExCeL, from 13-16th Feb with a special show offer of 20% discount on all kits. 
For more details on Datatag visit www.datatag.co.uk/cycles
For more details on Batribike visit www.batribike.com
Notes.
*Bare titanium frames cannot be etched and require a RFID system
**Datatag Datadots available in PRO system only
 
Datatag UV 'Stealth' System RRP £24.99
Datatag UV 'Stealth' PRO System RRP £29.99
Datatag RFID System RRP £24.99