Datatag Latest News
Tweet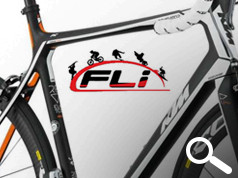 FLI DISTRIBUTION TO FIT DATATAG CYCLE SYSTEMS IN THE FIGHT TO BEAT CRIME
KTM cycle distributors, FLi Distribution, have taken the decision to help customers protect themselves from theft by offering as standard a Datatag stealth UV PRO system on all machines with an RRP of £2000 or more. Bike theft is a growing issue for owners of high end bikes and the increasing trend of breaking them down to sell on the components means protecting an entire bike is not easy. 
DATATAG, security experts, already trusted to provide the tech behind the Motorcycle Industry Scheme MASTER, have the solution. Their two systems; the 'UV Stealth' and 'UV Stealth PRO', allow owners to mark not just frames* but also valuable components like cranks, derailleurs, forks, wheels and bars providing complete protection – something unique to the cycle market.
The 'UV' etches found in both kits provide a stealth UV 'mark'* which only reacts under UV inspection, thus keeping frames looking pristine. The microscopic Datadots**, which contain a unique code, are held in a UV glue and can be 'painted' into hard to reach places in brake levers, derailleurs, seat posts etc providing not only a high level of deterrent but also making identification an easy job for the Police. In fact early results in the motorcycle industry from the Police show a dramatic reduction in theft of protected machines, something DATATAG have already seen in other markets.
Chris Harrison, Datatag Sales Director said "As the value of bikes goes up and their appeal to thieves increases we've seen a corresponding increase in bike theft over the past few years. Our technologies, already adopted as standard and proven in both the motorcycle and agriculture industries, stands apart from the competition by providing a multi-layered approach which not only deters the initial theft but also aides recovery and prosecution should the worst happen."
FLi Distribution Marketing Manager Louise Johnson said' "Of course theft is a concern and our decision to fit Datatag as standard to our most desirable bikes shows that we take it and our customers complete satisfaction very seriously. We are confident that this decision will bring peace of mind to our riders."
Datatag will be exhibiting at the London Cycle Show, ExCeL, from 13-16th Feb with a special show offer of 20% discount on all kits.
Notes.
*Bare titanium frames cannot be etched and require a RFID system
**Datatag Datadots available in PRO system only
 
Datatag UV 'Stealth' System RRP £24.99
Datatag UV 'Stealth' PRO System RRP £29.99
Datatag RFID System RRP £24.99