Datatag British Superbikes Official Sponsor - Round 2 Thruxton
British Superbikes Latest News - Thruxton Round 2
The Motorpoint British Supersport Championship protected by Datatag delivered two different, but equally deserving, race winners at the second round at Thruxton with Glen Richards and Billy McConnell sharing the spoils.
Richards, aiming to regain his Crown aboard his Smiths (Gloucester) Triumph, took pole the day before and managed after a race long battle to pull clear of Sam Warren and Ben Wilson in the Sprint race. McConnell unfortunately was forced to retire whilst Jack Kennedy aboard his YZF-R6 just missed out on a podium finish for the Mar-Train Yamaha team.
The Feature race was another intense battle for victory as the Triumph contingent of McConnell, Richards and Mossey fought it out against Kennedy, Warren and Wilson who all had their sights set on the win. The rivals swapped positions several times throughout the race as they took advantage of the slipstreams on the fast and flowing circuit, but on the final lap Warren dramatically crashed out of contention, leaving the Smiths (Gloucester) Racing Triumphs and Mar-Train Yamaha's Kennedy to scrap over the final half of the lap.
McConnell emerged victorious after holding the lead into Club corner for the last time, becoming as he crossed the line the fourth different winner in as many races whilst Kennedy fired ahead of Richards for second. With that result Kennedy now leads the title standings by just 1/2 a point! (half points awarded at Brands Hatch).
Kennedy said: 'The second race of the weekend was probably one of my best races in Supersport and even though we narrowly missed out on the win, I wasn't settling for anything less than a podium. I'm delighted with the second place and to be leading the championship!'
Datatags MD Kevin Howells was there to witness the action and said 'The level of riding was just incredible and all the guys deserve to be on the podium. It's great that Datatag can be part of what is probably going to be the most exciting races in the calendar this year'. He continued 'Datatag are proud to be associated with the British Supersport Championship, to be able to raise awareness of motorcycle theft among the most targeted group - Supersport riders, and highlight how with Datatag they can protect their pride and joy.'
Motorpoint British Supersport Championship protected by Datatag standings after Thruxton:
Jack Kennedy (Mar-Train Yamaha) 55.5
Sam Warren (Seton Tuning Yamaha) 55
Ben Wilson (Gearlink Kawasaki) 47
Glen Richards (Smiths (Gloucester) Racing Triumph) 45
Billy McConnell (Smiths (Gloucester) Racing Triumph) 40
British Superbikes Image Gallery
British Superbikes Latest Videos
Watch highlights of race 2 at Thruxton, round 2 of the 2012 MCE Insurance British Superbike Championship
Watch highlights of the feature race at Thruxton, round 2 of the 2012 Motorpoint British Supersport Championship protected by Datatag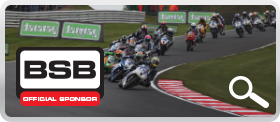 Which System Do You Want?