Datatag Latest News
Tweet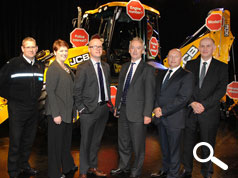 NEW SERVICE PROVIDES EQUIPMENT PROVENANCE CHECK AT THE CLICK OF A MOUSE
Automotive-style equipment provenance checks are available from today thanks to a new on-line service launched by Datatag in conjunction with HPI, the pioneer and leader in vehicle history checks. The new CESAR branded provenance check provides a new level of assurance whenever a used construction or agricultural machine is bought or sold.
The new service was launched to the press, the insurance and asset finance industry and prospective business users at JCB's world headquarters at Rocester, Staffordshire this morning. The CESAR provenance check has been developed by Datatag and HPI at the behest of the insurance and asset finance industry which has enjoyed the benefits of accurate history checks for cars and vans for many years, but which had lacked a reliable provenance checking service for construction and agricultural equipment, until today. JCB Finance has, through its work on the FLA's Asset Registration Group and directly with Datatag, been one of the most active and vocal finance companies calling for such a service.
Rob Oliver, Chief Executive of the Construction Equipment Association commented at the launch, "CESAR has had a huge impact since its launch as it has reduced equipment theft and increased the recovery rate of stolen machines. I am quite sure that CESAR provenance checks will help reduce the anguish and costs inflicted on legitimate businesses by buying or selling a stolen, cloned or fraudulent machine."
Many stakeholders in the manufacture, supply, financing, and operation of equipment have suffered financial loss by buying or selling a machine with a 'chequered history'. Amongst frequent problems reported to the police are stolen machines, cloned machines, machines bought or sold when subject to one or more finance agreements, machines which are subject to an insurance claim  and machines which do not meet EU type approval, so called 'grey imports'.
The new service is simple and quick and provides an instant on-screen report about a machine's potential 'hidden history'. Using HPI's Tradeweb platform and CESAR, DVLA and police databases this new provenance check is both comprehensive and secure. A machine's 17 character VIN number, registration plate or unique CESAR mark can be used to start a history check on-line, at any time of the day or night. Stolen machines often have their registration plates and VIN numbers removed, modified or replaced by thieves. And there is a growing trend of thieves cloning stolen machines, using fake VIN plates, to try and give them a new 'legitimate' identity. By using several databases the CESAR and Datatag provenance check can quickly identify and highlight any inconsistencies in a machine's history that throw doubt on its legitimacy.
Construction and Agricultural machine owners and operators, franchised and independent dealers, auction houses and the insurance and finance industry can all benefit from a CESAR on-line security check that gives an accurate and valuable insight into a machine's history and peace of mind.
This new service is available on-line via the CESAR or Datatag web sites. A 'one-off' provenance check costs £29.99 excluding VAT. Volume based discounts will be available to business users who register with the scheme.
Commenting at the launch event Kevin Howells, Managing Director, Datatag ID Limited said, "JCB was the venue for the launch of CESAR in 2007 and for the production of the 100,000th CESAR registered machine just over a year ago. I'm delighted to be back in Rocester today for the launch of a new service that is desperately needed to help reduce the impact of equipment theft and finance and insurance fraud. There are simply too many criminals preying on the unwary, trading in stolen or cloned machines or involved in selling machines that they do not own. This new service will be a positive help to legitimate dealers and end users."