Datatag Latest News
Tweet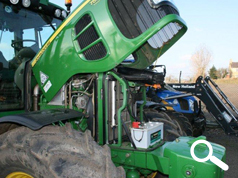 CESAR-IT DAYS HAILED A SUCCESS BY THE POLICE
Datatag Technician Tim Hollamby and his team are conducting a crusade against equipment theft in conjunction with Thames Valley, Dorset and Hampshire Police.
All three police forces support and promote CESAR-IT days for local farmers which see Tim fit the official CESAR security system to their tractors, telescopic handlers, quad-bikes and other types of equipment. With a spate of rural crime and equipment theft both police forces put their faith in CESAR to act as a powerful deterrent against theft and an invaluable aid in recovery.
Such is the success of the programme that Thames Valley Police has launched an initiative to subsidise the cost of CESAR to encourage more farmers to adopt the scheme and protect their equipment. Under this scheme CESAR is available for just £88 (excluding VAT). This Thames Valley Police subsidised price is available to people living in Oxfordshire, Buckinghamshire and Berkshire. For full details contact Datatag directly on 01932 796 788 or look out for local CESAR-IT days in your area.
The CESAR scheme is the most successful scheme of its type anywhere in the world with over 120,000 machines now protected and registered. CESAR works by giving each piece of equipment a unique and permanent 'fingerprint' using an array of high technology security marking devices including tamper evident triangular registrations plates, Radio-frequency identification (RFID) transponders, forensic liquid DNA, and microscopic Datadots®.
Datatag, who supply the sophisticated security technology for CESAR, and Tim Hollamby are planning a series of CESAR-IT days in Hampshire and the Thames Valley in the balance of 2013. The next CESAR-IT day is in Hampshire on August 20th, where Tim and his team will be working with local PCSO Jim Hordle who has secured outside funding for discounted systems, will fit CESAR to over 15 pieces of equipment, each worth tens of thousands of pounds.
The value of agricultural and construction machinery equipment is extremely high, even compared to prestige cars, and therefore they attract organised and opportunistic thieves who steal machines to order and ship them abroad within hours of being taken. The cost of theft, borne by the insurance industry, is passed back onto the customer in higher excess charges and insurance premiums. Such is the deterrent effect of CESAR that insurance discounts of up to 25% are given to CESAR protected machinery.
Tim, during his time with Datatag, has protected equipment worth over £8m this year alone, with some items of agricultural equipment costing well into six figures. Tim comments "I am delighted with the success of the CESAR-IT days, the response has been over whelming and this shows that theft is still a huge issue in rural communities. The local police forces have been very supportive of the initiative and their help is invaluable in convincing farmers to invest in CESAR."
For more information go to www.cesarscheme.org