Datatag Latest News
Tweet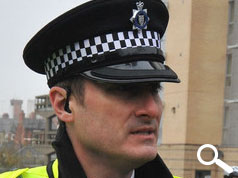 MOTORCYCLE THEFTS SPARK POLICE PLEA
Police have urged motorcyclists to be on their guard after a series of thefts.
Officers believe thieves are scouring the Hinckley Road area of Leicester and are loading motorcycles into a van.
In some cases, bikes worth up to £5,000 have been taken from owners' back gardens. Others have been taken from the street.
While some of the stolen vehicles have been recovered after being abandoned by joy riders, nine are still missing.
Police believe a gang might be targeting the vehicles to strip them down and sell them as spare parts.
Since the beginning of April, 29 motorcycles or mopeds have been stolen in the area covered by Hinckley Road police station, which includes the West End, Braunstone and Western Park.
In the same period last year, the total number of thefts was 21.
Inspector Andy Parkes, commander of Hinckley Road police station, urged riders to invest in basic security measures and asked residents to be on the lookout for suspicious behaviour.
He said: "We have charged people in the past for stealing them, stripping them down and selling the components.
"There is a market for stolen motorbike parts.
"We want members of the public to call us immediately if they see something suspicious, whether it's a motorbike being loaded into the back of a van or they see someone pushing one along the street.
"We would rather come along to check it out and find it is all entirely innocent than be recording another theft."
Officers have teamed up with the Safer Leicester Partnership to stock motorcycle security equipment at the station, including chains, locks and ground anchors – which can be embedded in a concrete floor.
Motorcyclist Michael Davies, 43, of Fosse Road North, said: "I spent more than £6,000 on my bike and I don't want to give a thief any chance of getting his hands on it.
"I caught someone trying to saw through my chain last year and I think they would have got through if I hadn't chased them off.
"I went out and bought a much better chain after that and nobody has tried it on since."
Various security items are on sale at Hinckley Road police station. Contact the station on 101 for details.
Story source: Leicester Mercury - http://m.thisisleicestershire.co.uk/story.html?aid=19145612