Datatag Latest News
Tweet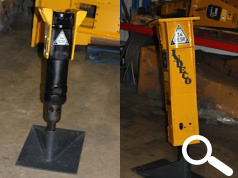 INDECO ATTACHMENTS 'CESAR-IT'
Indeco, the leading designer and manufacturer of hydraulic attachments, has today announced that it will be fitting CESAR security and registration across its model range in 2013 on the products it sells in the UK. Indeco products, which are widely used in construction, demolition and extraction, include a full range of hydraulic rock breakers, crusher arm assemblies, pulverizers and compaction plates.
Indeco will use a special CESAR security system, developed by Datatag, that can stand up to the arduous applications that their products face on a daily basis. As with all CESAR security systems each piece of equipment will be given a unique 'fingerprint' that thieves simply cannot remove.
The theft of hydraulic attachments, particularly dipper mounted rock breakers which can cost up to £100,000, from construction and demolition sites is a common occurrence according to the police. CESAR is a proven deterrent against theft and an invaluable aid in recovery. Over 100,000 pieces of equipment are now protected by CESAR and they are 4 times less likely to be stolen than unregistered equipment. The recovery rate for stolen CESAR equipment is nearly 30% compared to less than 5% before the scheme was introduced in 2007.
John Jackson, Director Indeco (UK), comments, "I'm delighted to announce the adoption of CESAR giving our customers an additional benefit in 2013. Equipment theft causes disruption to a site, as well as the obvious financial loss. I am sure that Indeco customers will appreciate the deterrent effect of the CESAR warning triangle"
For more information go to www.cesarscheme.org