Datatag Latest News
Tweet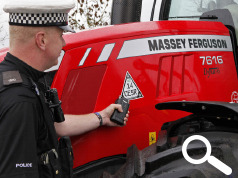 MASSEY FERGUSON ADOPT CESAR SECURITY AND REGISTRATION
One of the most iconic names in British agriculture, Massey Ferguson, has announced plans to offer the official CESAR security and registration system on its range of tractors from the beginning of 2013.
Massey Ferguson, a part of the AGCO Corporation, offers a wide range of agricultural tractors from 69 to 370 hp able to tackle any job on the farm. CESAR will be fitted as standard to machines destined for the UK and Irish markets in Massey Ferguson's Beauvais factory by fully trained staff. CESAR will be available as an optional dealer fit for other MF products such as balers, telescopic handlers and combine harvesters.
Massey Ferguson's National Sales Manager for the UK and Ireland, Rob Dunk commented "We're delighted that we are now fitting CESAR to our Massey Ferguson ranges from Beauvais. The industry suffers from the theft of high value capital machinery and it is only right that as a responsible manufacturer, we take all necessary steps to help protect our customers' investments."
CESAR is the most successful scheme of its type anywhere in the world with over 100,000 pieces of equipment now protected by the familiar triangular registration plate. CESAR is a proven deterrent against theft and an invaluable aid in recovery. CESAR registered machines are 4 times less likely to be stolen and 6 times more likely to be recovered than unregistered machines.
CESAR is widely supported in British agriculture, including by the Agricultural Engineers Association (AEA), The Home Office, ACPO, trade associations and many major insurers who offer insurance premium discounts of up to 25% for CESAR equipped machines.
CESAR works by giving each piece of equipment a unique 'fingerprint' using a variety of high technology security marking devices, supplied by Datatag, including tamper evident triangular registrations plates, Radio-frequency identification (RFID) transponders, forensic liquid DNA, and microscopic Datadots®. Once CESAR is fitted, a machine is protected for life with no recurring costs.
Chris Harrison, Sales Director of Datatag, comments on the news "We're delighted that Massey Ferguson has chosen to adopt CESAR. MF is one of the best known brands in British Agriculture and the news is another powerful endorsement of an industry working together to tackle equipment theft, which remains a common problem with organised and opportunistic thieves targeting the unwary. This news, coming hot on the heels of CESAR's 100,000th registration, gives greater impetus to CESAR in the New Year kicking-off at LAMMA."
Massey Ferguson will be exhibiting CESAR equipped tractors on their biggest ever stand at the popular LAMMA show which is due to be held on Wednesday 16th and Thursday 17th January 2013 at the Newark and Nottinghamshire Showground.
For more information go to www.masseyferguson.com/emea/gb/ or www.cesarscheme.org