Datatag Latest News
Tweet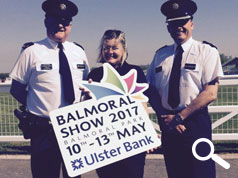 FEATURE ARTICLE IN NEWS LETTER - PSNI MAKING LAST MINUTE PREPARATIONS FOR BUMPER BALMORAL SHOW
Source: http://www.newsletter.co.uk
As countdown to the 149th Balmoral Show gets ever closer, the PSNI is making last minute preparations for the event which, this year, adds an extra day to the itinerary.
The PSNI will occupy two stands this year, offering more advice on how to protect your farm, business, home, property and equipment.
The PSNI liveried John Deere Gator utility vehicle (kindly loaned by Johnston Gilpin & Co Ltd of Lisburn) will be officially 'unveiled' at the event and will be situated in the Eikon complex, where Crime Prevention Officers (CPOs) will be on hand to provide guidance and advice on protecting against rural crime.
CPOs will also occupy another stand in its usual spot outside and will feature the Service's liveried tractor (kindly loaned by Burke's of Cornascriebe).
Supt. Brian Kee said "Tackling crime against the rural community is important to police. We understand the effect these crimes have on communities and the grave impact they can have on farmers' livelihoods.
"The Police Service is committed to reducing rural and agricultural crime. Our strategy is to work with partner agencies and commercial stakeholders to identify ways of preventing crime, as well as targeting and arresting those committing such offences.
"We are particularly pleased to be working as part of the Rural Crime Partnership to spread the message about crime prevention and reporting suspicious activity. The Rural Crime Partnership (RCP) aims to work together and bring forward recommendations and initiatives around preventing and combatting rural criminality. The Rural Crime Partnership members include representatives from the Department of Justice (DoJ), Police Service of Northern Ireland (PSNI), the Ulster Farmers' Union (UFU), Department of Agriculture, Environment and Rural Affairs (DAERA), National Farmers' Union Mutual Insurance (NFU Mutual), and the Young Farmers' Club (YFC).
"The farming industry is a very important part of our community, and we want to reassure them that we are doing all we can to prevent thefts. Thefts of farm machinery or livestock can not only hamper a farmer's ability to do his job but can cause significant upset, inconvenience and loss of income. We understand this. We want to disrupt those who would target the rural community and help farmers to safeguard their properties and themselves."
"John Deere is now fitting Datatag's CESAR security marking system as standard on all XUV and HPX Gator utility vehicle models sold in the UK & Ireland, as a way of protecting against theft, recovering stolen equipment and reducing insurance premiums," said Johnston Gilpin's managing director Randal McConnell. "We are very happy to support the PSNI in this way to help their efforts to prevent crime in the countryside."