Datatag Latest News
Tweet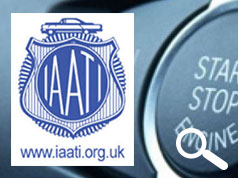 DATATAG SPONSOR IAATI UK CONFERENCE
The UK Branch of the International Association of Auto Theft Investigators has announced that they will be holding their premier conference on UK vehicle crime in 2017 entitled 'UK Vehicle Crime - A Global Issue'.
This year's event takes place on Wednesday 31st May and Thursday 1st June at Loughborough University Conference Centre where Leading security experts Datatag ID Limited, IAATI UK members and global IATTI supporters have announced that they will be one of the 2017 event's sponsors.
Held over two days, the event will see day one highlight the scale of the increase in crimes from all sectors involved from classic thefts to illicit parts, chop shop crime to finance fraud. UK vehicles are (and always will be) 'HOT PROPERTY' to criminals both foreign and domestic. Datatag, who power a number of official industry security schemes including The Master Scheme for the motorcycle and scooter market, have been asked to give an overview on Bike and Scooter Crime as part of day one's conference programme. The Motorcycle Industry Association (MCIA) launched the Master Scheme, to combat the growing issue of motorcycle crime. The scheme has the full backing from the Police, the National Police Chiefs Council and the Home Office.
On day two the conference will turn its attention to the issues surrounding, the frequency of attacks, the sophistication of organised criminal gangs and the commercial scale operators in vehicle crime. Datatag will present recent CESAR scheme case studies which will demonstrate how it protects larger construction and agricultural equipment, the scheme which now protects nearly 250,000 items of machinery has clearly demonstrated its power as a deterrent, over the years with official figures showing its contributing to a 70% reduction in theft. Many major international manufacturers support the scheme and fit the Datatag technology as standard including, Doosan, JCB, John Deere, Manitou and Merlo.
The two-day conference is set to be the most informative yet and in addition to the above scheduled discussion topics also address opportunities for an industry partnership approach to tackling vehicle crime.