Datatag Latest News
Tweet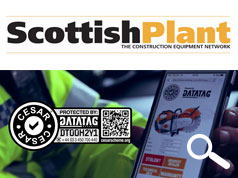 FEATURE ARTICLE IN SCOTTISH PLANT - PLANTWORX INNOVATION AWARDS
Source: http://www.scottishplant.co.uk/see-the-best-at-plantworx/
Products ranging from an intelligent excavator to a pioneering wheeled excavator, from an electric crusher to a 'pop up' welfare unit are among the winners of this year's Plantworx Innovation Awards.
The winners were announced yesterday (Thursday) in London at an event hosted by Rob Oliver, chief executive of the Construction Equipment Association, and all the winning and highly commended products will be on show at the Plantworx exhibition in Leicestershire in June.
Judges said the standard and volume of entries indicated an industry "full of innovative ideas" for the construction sector.
Security - Sponsored by SKM Asset Finance
Winner: Datatag - MicroCESAR
A unanimous choice of the judges, MicroCESAR was first announced at the Combined Industries Theft Solutions conference at the end of 2015 and has been in development since. The security marking technology gives each piece of equipment a unique 'fingerprint' that thieves cannot remove and enables police forces to verify the ownership of a piece of equipment without special equipment or lengthy laboratory testing.
Thefts of small power tools are extremely common and the judges felt MicroCESAR is likely to make "significant inroads" into reducing the problem. Power tools manufacturer STIHL has already announced it will fit MicroCESAR as standard on all its cut-off saws.