Datatag Latest News
Tweet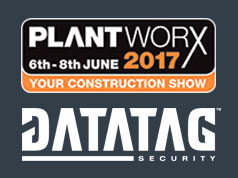 DATATAG SPONSOR THE SCHOOLS PROJECT INITIATIVE AT PLANTWORX
Datatag ID Limited, the power behind the official CESAR Scheme, is lending its support to the Construction Equipment Association's (CEA) Primary Engineer Initiative which will take place at the Plantworx Construction Equipment Exhibition in June.
The CEA and PLANTWORX have teamed up with educational organisation Primary Engineer to work with more than 25 primary and secondary schools in Leicestershire on an exciting Science, Technology, Engineering and Maths (STEM) construction equipment engineering project. This new initiative forms part of the CEA's Skills Council programme which aims to engage young people in STEM projects as a way of inspiring them to pursue a career in the sector.
The training comprises two teachers per school and a visiting engineer; teachers then incorporate the engineering challenge into the classroom. They are given access to the Primary Engineer Virtual Learning Environment and shown how to link projects and their teaching resources to the national curriculum.
The best teams will present their designs at PLANTWORX on Thursday June 8th as part of the Student Day where they will be judged by a team of engineers from the industry. The winning teams will then go on to compete in the Primary Engineer National Finals.
Datatag MD Kevin Howells said that "I'm delighted to be able to help with this important initiative and I hope that we can inspire the students to follow an engineering career in a very large and important manufacturing sector in the UK, including global brands like Cat, JCB and Komatsu, who are all CEA members."
A member of the Datatag team will take part in the judging which will take place as part of a celebration event on the last day of Plantworx, which is now also general election day.