Datatag Latest News
Tweet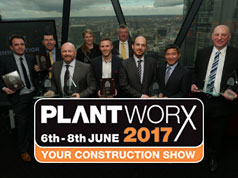 DATATAG SPONSOR THE EFFICIENCY AWARD AT PLANTWORX 2017
Security technology provider Datatag ID Limited has today announced its sponsorship of the EFFICIENCY Plantworx Innovation Award category. Datatag has supported Plantworx since its inception and the company won the 2015 SECURITY Innovation Award with their anti-theft system for fuel, VENOM.
Plantworx 2017, the third event organised by the Construction Equipment Association (CEA), is set to take place June 6th-8th at the 300-hectare Bruntingthorpe Proving Ground in Leicestershire. Plantworx, the UK's biggest live working construction event, will cover over 140,000 square metres and is the only UK show with live demonstrations.
As part of the show all exhibitors are given the opportunity to enter the Plantworx Innovation Awards which give exhibitors the opportunity to receive recognition for any significant new products or services launched within the past year.
Datatag ID Limited is the power behind the CEA's official CESAR Scheme and the newly launched MicroCESAR system. The CESAR Scheme is recognised as the UK's number one security marking and registration system for construction and agricultural equipment. To date over 225,000 pieces of equipment are protected by CESAR.
The CESAR system uses a range of state-of-the-art Datatag technology to give each piece of equipment a unique and permanent fingerprint that thieves cannot remove. Once a machine is CESAR marked and registered it's protected for life with no further annual fees or subscriptions. All leading insurers support the scheme and offer up to 25% discounts on all CESAR marked equipment and machinery.
The newly launched MicroCESAR is set to make a similar impact as the official CESAR scheme, by protecting a range of construction and landscaping equipment such as power tools, cut-off saws, hand-held hydraulic breakers and compaction plates. Leading equipment manufacturer Stihl announced their adoption of MicroCESAR at the Executive Hire Show earlier this month.
The CESAR Scheme is exhibiting at Plantworx on stands B36 and B45.