Datatag Latest News
Tweet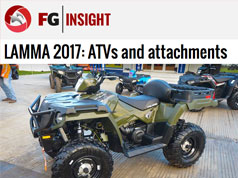 FEATURE ARTICLE FG INSIGHT - LAMMA 2017: ATVS AND ATTACHMENTS
Source: https://www.fginsight.com
Mobility is always a big factor for farms, and LAMMA had a plenty of vehicles on show to spark the imagination.
Polaris Sportsman 570 X2 ATV
Polaris has added a two-seater version of the Sportsman 570, but retaining the useful 180kg capacity tilt box from the 'Ute' and with front storage as standard.
 The back rest for the rear seat folds away inside the box when not in use. The 570cc 44hp quad is available in MD off -road or factory homologated versions, and specification includes power steering, active descent control and engine braking. A 'turf mode' unlocks the rear diff for improved road travel.
In common with all new Polaris vehicles the Sportsman X2 is CESAR Datatag security protected.