Datatag Latest News
Tweet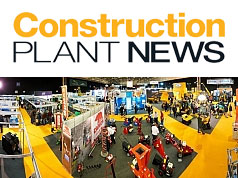 CONSTRUCTION PLANET NEWS FEATURE - EXECUTIVE HIRE SHOW 2017 - THE HIRE EVENT OF THE YEAR!
Source: http://cpnonline.co.uk
The 11th Executive Hire Show is opening its doors to hire industry professionals on the 8th and 9th February 2017 at the event's established home at the Ricoh Arena Coventry UK - in the heart of the Midlands. Plant & Civil Engineer have been a long-term supporter of the show and will be attending the Show as a visitor in February.
The Executive Hire Show has become a hub for the hire industry and year on the year the show increases in size with more exhibitors and a plethora of brand new products on display.  For 2017 a new area has been created - the 'Hire Show Hall' - where a direct link has been created from the Main Hall into the Lower Halls.
Expect to see the biggest name suppliers to the UK hire industry at the 2017 show - to date the event has 185 exhibitors - of these 52 are brand new to the event - the Main Hall and Atrium areas are now sold out! The Show may only be a two-day event but its reach and its influence continue throughout the hire industry throughout the year.
What's new? - A look at some of the new products being launched at the Executive Hire Show.
New exhibitor, Datatag, is coming to the Show with the company's new 'Security Identification System for Small Hand and Power Tools' - Micro-CESAR.
The new Datatag security system Micro-CESAR is set to make a huge impact in the fight against small tool theft following in the footsteps of the CEA's (Construction Equipment Association's) CESAR System which uses an array of Datatag security marking technology.
Like the official CESAR Scheme, Micro-CESAR uses Datatag security marking technology including a unique RFID tag and a tamper proof warning/registration label with an integrated QR code. Micro-CESAR and CESAR are designed to act as both a deterrent against theft and as an invaluable aid in recovery. CESAR, launched in 2007, has contributed to a 70%+ reduction in the theft of large construction equipment and Micro-CESAR is poised to make a similar impact protecting small construction tools and landscaping equipment such as power tools, cut-off saws, hand-held hydraulic breakers and compaction plates.