Datatag Latest News
Tweet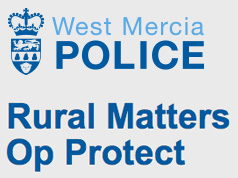 WEST MERCIA POLICE FEATURE - OP PROTECT AND RURAL MATTERS
Source: https://www.westmercia.police.uk/article/24896/Op-Protect-and-Rural-Matters
Crime prevention and what we do in the Golden Valley
Op Protect
It's that time of year when West Mercia Police conduct Operation Protect around the entire force, showing the public what we deal with and achievements when dealing with incidents.
Along with that the Safer Neighbourhood Teams and Specials go out into the community and assist with all different typed of crime prevention advice.
In the Golden Valley the team have been visiting farms, offering advice on Datatag, which is a form of property marking on farm machinery and can be obtained through Datatag or the Cesar Scheme.  We are visiting local livery yards to advise on Horsewatch and offer tack marking for free.  We are working with Roads Policing Unit, CID and ASB units to help in dealing with criminal activity.
Members of the public have been invited to some of our briefings and have assisted us by reporting in things to 101.
We continue this work throughout the year and appreciate all the information and reports from the public as it helps us in doing our work.
If any community group would like us to attend any of their events to assist in Crime Prevention then please email the SNT goldenvalley.snt@westmercia.pnn.police.uk