Datatag Latest News
Tweet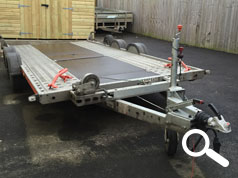 DATATAG REUNITE OWNER WITH STOLEN TRAILER IN MINUTES!
Earlier this year, at exactly 2:59pm, the Datatag Secure Contact Centre received a call from an owner of a trailer to say it had been stolen. This trailer, part of a fleet owned by the caller, had been fitted with a Datatag Trailer System and was stolen whilst out on hire.
At 3:08 a person called claiming to be checking details of the above stolen trailer found on the web as he was interested in buying it. This immediately raised suspicions of the contact centre team and they called in Datatag Police Liaison Manager Vince Wise to make contact.
After a brief call Vince managed to determine that far from checking an online advert the caller had in fact already bought the trailer and it was currently sitting on his drive. He had called as he had discovered Datatag markings on the trailer after purchase and wanted to check the provenance of his purchase.
Vince then called colleague Nick Mayall who, being local, was on site within 10 minutes to check the trailer over. After confirming the Datatag plates were genuine Nick was challenged on his findings by the new owner. Subsequent location and removal of microdots proved beyond doubt the true identity of the trailer and the fact that it had indeed been stolen. Unfortunately for the unsuspecting buyer the police were then contacted to recover and return it to a very happy owner who said, 'I really hoped that I'd never have to rely on the Datatag system to help recover my trailer - the fact that they called me literally minutes after I'd reported it stolen to say they found it was astonishing. This is the second trailer I've lost and had recovered by the Datatag System.'
Datatag's Vince Wise said 'This recovery is a perfect example of how our system and the technologies within it work to maximum effect.'
Wiltshire Police are continuing investigations into the theft of the trailer now it has been returned to the owner and anticipate a successful prosecution will result.