Datatag Latest News
Tweet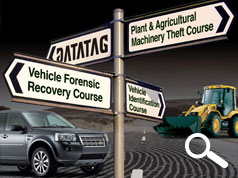 KNOWLEDGE IS POWER
In the fight against crime the adage 'Knowledge is Power' could not be more applicable. Being able to identify stolen machines quickly and easily ensures a swift conclusion to what could otherwise be at best a long drawn out investigation or at worst an undiscovered crime and a criminal 'getting away with it'.
Datatag's Police Liaison and Training Manager Nick Mayell has conducted hundreds of courses in forensic vehicle identification recovery and stolen vehicle identification over the years and trained thousands of officers to spot the tell-tale signs of theft and recover original identification, sometimes cleverly hidden.  All to the dismay of the criminals.
He says, 'Our courses teach officers some of the skills which have been lost to the forces over the years allowing them to gain an upper hand in the fight against vehicle crime.  There's not a day goes by when I don't hear of one officer or another using what they have learnt with us to stop crime.  It's one of the real bonuses of my job – seeing results and seeing them so quickly.'
The IMI will be holding courses early in 2017 at the AITS training centre, Cirencester.
IMI Forensic VIN Recovery; 22nd March 2017
With the demise of stolen vehicle squads throughout the UK, the aim of this course is to re-introduce and re-train officers in a cost effective manner. The one day course will appeal to a wide range from vehicle examiners, ports officers, RPU officers and rural crime officers to PCSO's or any LEO who is likely to come into contact with stolen vehicles.
The ability for officers to be able to quickly identify vehicles and return them to their rightful owners can quickly reduce costs for police forces, such as on-going storage charges, litigation issues relating to retention of vehicle etc.
The cost of the course is £250* ex VAT per delegate.
Certification costs: Methods of VIN Recovery - IMI - £22.00
IMI Identification of Stolen Vehicles;  23rd and 24th March 2017
This two day course will appeal to a wide range of law enforcement frontline and Intelligence staff and those using DVLA, PNC and other record keeping systems on a regular basis. The course would also be of great benefit to other agencies involved in the investigation of reported stolen vehicles, or vehicle related crime ie Insurance, leasing and financing companies.
Being able to quickly identify suspect vehicles greatly enhances officer's operational effectiveness and empowers them to make time critical decisions which will positively impact financially on their employers. The course will also lead students into gathering evidence to support their findings for production at court if required to do so.
The cost of the course is £350* ex VAT per delegate.
Certification costs: Motor Vehicle Identification - IMI - £22.00
Plant & Agricultural Machinery Theft Course Dates; 20th and 21st March 2017
This course will provide attendees with the knowledge to select and correctly identify a piece of suspect machinery, whether it be on patrol, road check, raid or port and is accredited with the IMI (Institute of the Motor Industry).
This course would appeal to a wide sector of personnel within law enforcement such as roads policing, ports, customs, FIB, PCSOs, SOCO, vehicle examiners, etc, etc.
After completing the course each officer will leave having the confidence to stop, examine and deal with a piece of plant or agricultural machinery effectively.
The course runs over 2 days and is a mix of theory and practical sessions. Students are required to fill out a course workbook and sit an end of course multiple choice examination.
The cost of the course is £350* ex VAT per delegate.
Certification costs: Motor Vehicle Identification - IMI - £22.00
To book onto the course, please contact Anna Howe at: ahowe@aitsuk.com or call 01285 864650. Bookings are being taken now and officers are advised to book early as places are limited.
All courses are held at the AITS centre in Cirencester GL7 5XL, for more information see
www.datatag.co.uk/training