Datatag Latest News
Tweet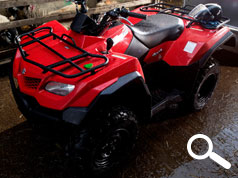 SUZUKI ATV CUSTOMERS AMAZED BY RESULTS OF FITTING DATATAG
Since deciding to fit Datatag security technologies to their range of Utility ATVs as standard Suzuki and their customers have seen a dramatic change in fortune.
With nearly 500 ATVs having been delivered to customers across the UK from Suzuki's dealer network only 3 have been reported stolen! A theft rate of around 0.5%.  Given that ATVs have featured in the top 3 of the NFU's Annual Rural Crime Survey for as long as anyone can remember this figure is remarkable.
George Cheeseman of Suzuki said "We chose the CESAR Compact System for our range of ATVs as it has had such a dramatic effect on theft of larger scale agricultural machinery – we are really pleased that this success has been replicated with the ATV sector. Deciding to fit it as standard was an easy decision and hopefully proves to our customers our dedication to providing them with the absolute best ATV package available on the market."
Something Joe Lintell, a sheep farmer from Dorset who relies on his ATV for all his work has clearly recognised saying, "The fact that Suzuki ATVs come with Datatag as standard is such a reassurance and is one of the reasons I chose the KingQuad 500."
This customer reassurance is also well received by Suzuki's Dealer Network who see the result of rural crime all to often and work hard to get farmers back on the road as quickly as possible.