Datatag Latest News
Tweet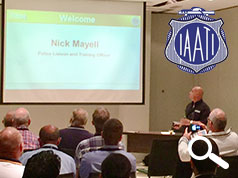 SPANISH INVASION OF VEHICLE CRIME LEADERS
This week will see the International Association of Auto Theft Investigators (IAATI) head to Spain for their annual three-day conference. The Association, founded in the USA in 1952, has become increasingly active in Europe and now has members from 30 countries.
The global IAATI events are a crucial platform to enable world-wide partnerships with trusted organisations that provide intelligence and security products. With a healthy cross section of key players from the motor industry, motorcycle manufacturers and distributors, the road haulage industry, and the insurance and asset finance industry the IAATI event is a vital source of shared intelligence on all the latest security threats and developments.
The 2016 conference will feature the latest training and Datatag ID Limited, the number one security marking and registration provider, will once again be in attendance with Police Liaison Officer Nick Mayell presenting to the many international delegates on each of the three days.
Nick is a well-known figure in the field of vehicle identification and forensic identification recovery assisting police officers to recover tens of thousands of pounds' worth of stolen equipment every month. Nick has unique and invaluable expertise and passes this on to delegates at accredited police training courses throughout the year. Nick will share some of his knowledge at the conference giving a series of demonstrations on how to take a forensic cast of a fake vehicle VIN number. This very important part of the evidence trail  is all too often lost simply because the police officer or insurance investigator didn't possess the understanding or skill to take the cast.
A forensic cast allows an investigator to preserve evidence long after the stolen vehicle has been disposed of and can help establish a link between a particular set of stamps or engraver. Evidence preserved in this manner can often mean the difference between a simple case of handling stolen goods or the more serious charge of conspiracy.
This knowledge sharing as part of the IAATI conference is extremely important to the global community in the fight against vehicle crime, especially in today's climate of diminished budgets and stretched resources. It's crucial that countries engage together to tackle the organised criminal networks that profit from vehicle related crime and fraud.
As well as providing training to law enforcement agencies Datatag also provides the marking technologies for the official construction and agriculture industry's CESAR Scheme in the UK and also powers the MASTER Scheme, the industry wide security marking scheme for the motorcycle market in the UK and the COMPASS Scheme for the marine market.
Comprising of state of the art security marketing technology the CESAR Scheme now protects over 225,000 pieces of construction and agricultural equipment and is widely acknowledged as having contributed significantly to a 60% drop in equipment theft since it was launched in 2007.
NOTES: IAATI is a 'not for profit' organization whose members include serving and retired police-officers, customs officers, insurance companies and their investigators, vehicle rental companies, car leasing companies, vehicle licensing organizations, vehicle manufacturers, lawyers and many others with a legitimate professional interest in vehicle crime investigation, prevention and education