Datatag Latest News
Tweet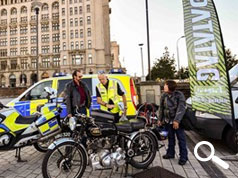 DATATAG SUPPORT MERSEYSIDE POLICE AHEAD OF IOM FESTIVAL
Datatag again provided support for Merseyside Police offering crime prevention advice at Liverpool's Pierhead to thousands of motorcyclists and spectators travelling to and from Liverpool as the 2016 Festival of Motorcycling got underway on the Isle of Man.
Officers from Merseyside Police, Merseyside Road Safety Partnership and the national Bike Safe initiative along with Datatag staff offered free gifts and advice, including single use breathalyzers and ear plugs.
Sergeant Dave Williams from Merseyside Police Vehicle Crime Group said: "The event is a great opportunity to talk to motorbike users and fans alike as they embark on this classic festival of motorcycling. The increase in traffic at this time of year, both in Merseyside and the Isle of Man, can heighten the risk of collisions on the roads, and riders and other road users need to look out for each other more than ever. At this and all times, we would ask that riders watch their speed, watch the space around them and respect pedestrians and other vehicles on the road."

Dave Luscombe from Datatag said, "We are pleased to be helping out again and working with Merseyside Police we are able to highlight the issue of theft and advise riders of the MASTER Scheme initiative which is supplied with many new bikes. It's a great way to help spread the message of theft prevention in a fantastic atmosphere ahead of this iconic motorcycling event."
Information:
Datatag : www.datatag.co.uk/motorcycle.php
MASTER Scheme : www.masterscheme.org
Bikesafe : www.bikesafe.co.uk
Merseyside Road Safety Partnership : www.no-excuses.org.uk