Datatag Latest News
Tweet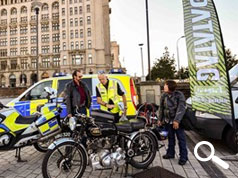 COMMUNITY ENGAGEMENT EVENT - PIERHEAD, LIVERPOOL
Merseyside Police and partners are offering road safety and crime prevention advice at Liverpool Pierhead, as the 2016 Festival of Motorcycling gets underway on the Isle of Man.
The event is being held from 7am-7pm (today, Friday 26 August), with thousands of motorcyclists and spectators travelling to and from Liverpool.
Officers from Merseyside Police, Merseyside Road Safety Partnership and the national Bike Safe initiative will be offering free gifts of ear plugs, visor cleaners and single use breathalyzers, and safety and crime prevention advice to riders. The event is also being attended by Datatag, who register and protect motorcycles and other vehicles through identification and electronic security systems.
Sergeant Dave Williams from Merseyside Police Vehicle Crime Group said: "The event is a great opportunity to talk to motorbike users and fans alike as they embark on this classic festival of motorcycling. The increase in traffic at this time of year, both in Merseyside and the Isle of Man, can heighten the risk of collisions on the roads, and riders and other road users need to look out for each other more than ever.
"Every year we see an increase in the number of motorcycles traveling through the county to and from the Isle of Man. At this and all times, we would ask that riders watch their speed, watch the space around them and respect pedestrians and other vehicles on the road. Other road users should always Think Bike. Motorbikes have a smaller profile on the roads than cars and drivers sometimes miss them when they're pulling out or turning right."
Information about Merseyside Bikesafe initiative can be found at http://www.bikesafe.co.uk/locate-a-force/merseyside/about-merseyside-bikesafe. Riders can attend a workshop by calling 08444 151206
Information on the Merseyside Road Safety Partnership can be found at http://www.no-excuses.org.uk/