Datatag Latest News
Tweet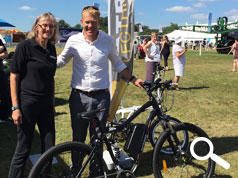 BATRIBIKE CHATS WITH ADAM HENSON AT COUNTRYFILE LIVE!
Source: http://www.batribike.com
Batribike was invited to be on the Datatag stand at the BBC Countryfile Live stand at Blenheim Palace last weekend.
This was the first time that the popular BBC Countryfile programme had staged a live event for the public to attend. The event covered all sorts of countryside activities. We know from our customers that riding their electric bike in the countryside is certainly something they enjoy, so we were delighted to be at the event to spread the word.
Adam Henson of Adam's Farm
Adam Henson, one of the programmes presenters came down to see us on the stand. He is an advocate for security marking and said that he has Datatag on all of his tractors.
We were delighted to show him the Batribike electric bikes we had on the stand, he was very pleased to hear that we fit the Datatag system as standard.
The beautiful weather and setting in the grounds of Blenheim Palace certainly helped the show to be an enormous success and we hear now that it is set to become an annual event.
Thames Valley Police promotes security marking
We also met members of Thames Valley Police on the stand. Security marking is important as it reduces crime and aids in returning recovered property.
Batribike fits Datatag as standard
Datatag produces a range of security marking systems suitable for equipment from construction plant and agricultural machinery, trailers, quad bikes and saddles to bicycles. Batribike fits the Stealth Pro Cycle system to all its electric bikes, as part of a package alongside a one month free electric bike insurance from Lexham, one of the country's leading brokers.