Datatag Latest News
Tweet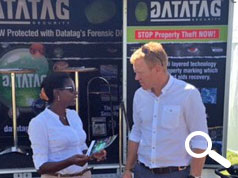 DATATAG KEPT BUSY AT THE FIRST COUNTRYFILE LIVE SHOW
Leading security marking providers Datatag ID Limited were kept busy at the first BBC CountryFile Live show which was held over 4 days at Blenheim Palace, Oxfordshire, the home of the 12th Duke and Duchess of Marlborough and the birth place of Sir Winston Churchill. Set in 2,000 acres of landscaped parkland with formal gardens and family friendly pleasure gardens it was perfect place to host this exciting new show. Which attracted over 100,000 visitors
Security experts Datatag previously featured on the prime time BBC CountryFile programme in 2010, when John Craven investigated equipment thefts and highlighted the success of the official CESAR security system. The official CESAR Scheme is the leading anti-theft security marking and registration system for Agricultural and Construction equipment. CESAR which is owned by the Agricultural Engineers Association (AEA) and the Construction Equipment Association (CEA) is powered by leading Datatag technologies including overt and covert markings, including forensic liquid DNA, Datatdots, transponders and triangular warning labels. 
The success of the CESAR Scheme has contributed to a 70% reduction in equipment theft since it was introduced in 2007 and using the technologies contained within the CESAR system the police have recovered millions of pounds worth of items. As such the CESAR Scheme is regarded by the police as their biggest aid in recovering stolen machinery. Major insurance companies also recognise the benefits of the CESAR Scheme and support it by offering up to 25% discount on all CESAR marked equipment.
During the show Datatag experts were on hand to show visitors other powerful security initiatives which included the motorcycle industry's MASTERS scheme, Datatag systems for ATVs, trailers, 4X4s, power tools and Equine systems for theft protection of saddles and tack rooms.
BBC CountryFile host Adam Henson, who is familiar with the CESAR Scheme, also made an appearance on the stand. Adam, who has had his farm machinery CESAR marked, is a big fan of protecting his farm with proven Datatag technologies.
Also displayed was a CESAR marked Can-Am quad bike, which was displayed courtesy of Dorn Hill Machinery. Visitors were given the opportunity to win an ATV as part of a competition BRP are running throughout the country for 2016.
Two Battribikes were also displayed by husband and wife duo Sue and Ralph Coulson. Theft in the cycle market is still a major issue and Batribike help protect their customers by fitting Datatag Cycle PRO system as standard for all their customers.