Datatag Latest News
Tweet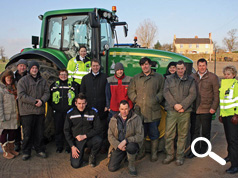 THAMES VALLEY POLICE CESAR INITIATIVE
3rd February 2012
Thames Valley Police (TVP) and Aylesbury Vale District Council (AVDC) have joined forces with the UK's only official security marking scheme for equipment, CESAR, to offer farmers in the Aylesbury Vale area the opportunity to have their machinery protected by CESAR at a discounted price.
Foscote Cattle Market was the venue for an innovative event organized by Datatag, the company behind CESAR, where trained and approved technicians installed the CESAR security marking system on an array of agricultural equipment brought to the event by local farmers.
Inspector Emma Garside of TVP said: "Rural crime is an ongoing concern for the police service and the community. Thefts cause huge disruption to farmers and we encourage property marking schemes such as CESAR, which enable us to identify and recover stolen property far more efficiently, even where other identifying numbers have been destroyed by the thieves in an attempt to mask its identity. We know that stolen equipment is taken abroad, often within a few hours of it being stolen and we are working closely with colleagues around the country to identify those responsible and bring them to justice."
CESAR works by giving each piece of equipment a unique 'fingerprint' using an array of high technology security marking devices including tamper evident triangular registrations plates (with a unique registration number for each machine) Radio-frequency identification (RFID) transponders, forensic liquid DNA, and microscopic Datadots®.
Launched in 2007 CESAR is now the most successful scheme of its type anywhere in the world with over 75,000 machines registered on the scheme. The British Home Office, the police, and the insurance and equipment finance industries fully support CESAR. Major equipment manufacturers that fit CESAR as standard, on machines for the UK market, include, John Deere, JCB, New Holland, McCormick, Zetor and Manitou.
CESAR registered by machines are 4 times less likely to be stolen than unregistered machines, one reason why leading insurers give up to 12.5% discount for CESAR registered machines.
See the web site at www.cesarscheme.org for more details.