Datatag Latest News
Tweet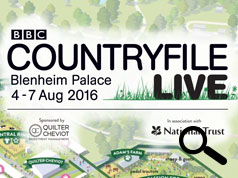 DATATAG TO EXHIBIT AT THE FIRST COUNTRYFILE LIVE SHOW
Leading security experts Datatag ID Limited will be exhibiting at the first ever BBC CountryFile Live show, hosted in the spectacular grounds of Blenheim Palace in Oxfordshire on the 4-7 September.
Blenheim Palace is home to the 12th Duke and Duchess of Marlborough and was the birth place of Sir Winston Churchill. The national treasure houses some of the finest antique collections in Europe with a three hundred year history. Set in 2,000 acres of landscaped parkland with formal gardens and family friendly pleasure gardens it is the perfect place to host this exciting new show.
Security experts Datatag have previously featured on the prime time BBC CountryFile programme with the official CESAR Security System. CESAR, powered by Datatag technologies, is the number one anti-theft security marking and registration system for agricultural and construction equipment and is owned by the Agricultural Engineers Association (AEA) and the Construction Equipment Association (CEA).
Datatag will be exhibiting their powerful security marking systems for various products including; equine, 4x4, trailer, power tool and cycle. Datatag system technologies include overt and covert markings, including ultra violet etches, tamper evident warning labels, RFID transponders, forensic liquid DNA, Datatdots, transponders and triangular warning labels. 
Kevin Howells of Datatag said 'We're very pleased to be able to attend this inaugural show. The rural community has been blighted with theft for too long and we want to spread the message about how people can protect themselves and make life far more difficult for the criminals who ruin our lives.'
The success of the Datatag technologies in deterring theft comes from their ability to stop criminals changing or hiding the identity of your property. Knowing that they will be prosecuted if found with Datatagged assets means they generally steer clear. Datatag is so successful in this regard that their systems have been adopted as the industry standard security marking system for the Construction, Agriculture, Marine and Motorcycle markets - protecting everything from Suzuki outboard engines, Ducati superbikes, John Deere tractors and JCB diggers.  In fact Datatag has protected billions of pounds worth of assets in the last 10 years alone.
All assets are registered on Datatag's secure database which through their 24/7 Secure Contact Centre can be accessed by the Police to confirm ownership of any item day or night.