Datatag Latest News
Tweet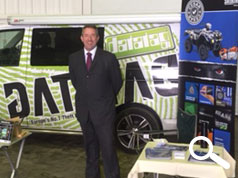 DATATAG SUPPORT RURAL CRIME EVENT
Essex police constabulary this week invited representatives from leading security experts Datatag ID Limited, to exhibit their latest security initiatives as part of an Essex rural crime awareness initiative.
The well attended one day event was hosted for the fourth time at Royton Hall, Chelmsford, the home of the Essex Young Farmers Show.  Visitors, which included rural residents, landowners and farm owners from across Essex, attended the event as part of an initiative which was aimed at driving down the increasing problem of countryside crime in the county.
Essex police who launched the initiative talked about their latest work which includes patrols in rural areas. In attendance with them were the local crime commissioner, as well as representatives from NFU (National Farmers Union) and PANIU (Plant and Agricultural National Intelligence Unit).
The rural crime awareness day was kicked off by a welcome speech by Chief Constable Stephen Kavanagh and event organizer, Officer Ross Brazier who invited leading security experts Datatag ID Limited, to demonstrate the work they do to reduce crime in rural communities, this included the official CESAR Scheme.
The CESAR Scheme, powered by Datatag technologies, now protects over 200,000 items of machinery in the UK and since launched has been adopted by many leading manufacturers as standard factory fit including John Deere, JCB and Massey Ferguson to name just a few.
Made up of state of the art security marking technologies, the success of the CESAR Scheme has contributed to a 70% reduction in equipment theft since it was introduced. Using the technologies contained within the CESAR system the police have recovered millions of pounds worth of items - as such the CESAR Scheme is regarded by the police as their biggest aid for recovering stolen machinery.
Major insurance companies also recognise the benefits of the CESAR Scheme and support it by offering up to 25% discount on all CESAR marked equipment.
A large area was set aside on the day for product demonstrations and displays from the police and businesses demonstrating crime prevention products and services. The CESAR demonstration, given by Datatag's Police Liaison and Training Officer Vince Wise was well received and over 20 CESAR systems were adopted during the event by local residents, farmers, landowners and businesses.
As well as CESAR for machinery, tractors and Plant, Datatag's Vince Wise also covered the many other anti-theft Datatag systems; VENOM for fuels, the newly launched Micro-CESAR system for handheld power tools and also Datatag systems for caravans, trailers, ATVs, 4X4s and their total farm protection offer.
As the event drew to an end Police crime prevention tactical advisers also advised how security can be improved by a partnership approach and announced they will be carrying out security visits to farms and businesses in rural locations in the coming months offering advice.
Officers and other specialists will also be giving advice on public rights of way, wildlife crimes such as hare coursing and poaching, roads casualty reduction, human trafficking and the control of firearms.