Datatag Latest News
Tweet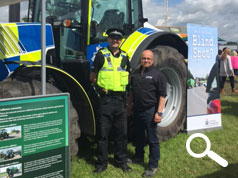 DATATAG SUPPORT CHESHIRE POLICE AT COUNTY SHOW
Cheshire police constabulary this week invited representatives from leading security experts Datatag ID Limited, to exhibit their latest security initiatives on their rural crime watch stand at the Cheshire county show.
For more than 175 years, the Cheshire show has been the premier summertime agricultural event in the North West of England and earlier this year reached an exciting milestone when the honor of 'Royal' status was bestowed on the show by the Cabinet Office.
The 2016 event saw the inauguration of the newly titled, Royal Cheshire County Show take place on the 21st & 22nd June. With the show's roots firmly embedded in farming.
The Royal Cheshire County Show brings together many interesting and fascinating aspects of farming and rural life in the beautiful and unique county of Cheshire including livestock and rare breed displays, food halls, a countryside experience area and many more attractions for visitors. The Cheshire police constabulary was there amongst the many exhibitors representing Rural Watch which was founded by Cheshire police's vehicle examiner Mike Dawber. Rural Watch was created to highlight some of the dangers and issues rural communities face and ways in which communities can protect themselves.
Chief Inspector Sarah Heath and police vehicle examiner Mike Dawber and their team were on hand at the show to highlight these dangers and in particular the increasing problem of agricultural equipment theft. 
Leading security experts Datatag were therefore invited to showcase their many anti-theft initiatives including the official CESAR Scheme and CESAR ATV system plus Datatag trailer and 4x4 systems to the local rural community - highlighting how their layered approach can deter theft.
The official CESAR Scheme is owned by the CEA and AEA and is the number one anti-theft system for construction and agricultural equipment, now protecting over 200,000 items of machinery in the UK. Since CESAR was launched it has been adopted by many leading manufacturers as standard factory fit including John Deere, JCB and Massey Ferguson to name just a few.
Made up of state of the art technologies, the success of CESAR has contributed to a 70% reduction in equipment theft since it was introduced. Using the technologies found within the official CESAR Scheme the police have recovered millions of pounds worth of items in this time and as such CESAR is regarded by the police as their biggest aid for recovering stolen machinery.
Major insurance companies also recognise the benefits of the CESAR Scheme and support it by offering up to 25% discount on all CESAR marked equipment.
The other Datatag systems being showcased were also positively received particularly with the increase of ATV thefts; visitors were interested in learning more about the technologies and theft protection offered by the Datatag trailer and 4x4 systems in particular.
Police Liaison and Trainer Officer Nick Mayell who represented Datatag on day one of the show said "The show has definitely been one of the most successful shows I have attended so far this year. Building awareness about the growing issues of rural crime is important and with a good footfall of people we were busy throughout the day.  Nearly everyone we spoke to has been touched by crime in some way or another. We are very pleased to be working closely with the police offering support and training wherever possible. Datatag systems and the police working together can provide a high level of theft protection."