Datatag Latest News
Tweet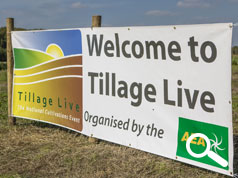 DATATAG TO EXHIBIT AT TILLAGE-LIVE
Leading security experts Datatag ID Limited will be exhibiting at Tillage-Live to showcase one of their biggest security initiatives - the CESAR Scheme.
Tillage-Live, which takes place in Monks Kirby on the 14th September is the event for arable farmers covering everything from ploughs and seedbed preparation equipment to drills and tyres.
The CESAR Scheme powered by Datatag ID Limited and owned by the CEA and Tillage-Live partners the AEA, is the industries official anti-theft and recovery system for large construction and agricultural equipment. And will be seen on many machines throughout the one day show as most major equipment manufacturers including New Holland, John Deere, JCB and Massey Ferguson, to name a few, have adopted CESAR as standard fit to their machinery. Major UK insurers also recognise the benefits of the scheme to their customer, so much so that they offer discounts of up to 25% for CESAR marked equipment.
Made up of state of the art Datatag technologies, CESAR has to date protected over 200,000 items of equipment in the UK and has proven its powers by helping to reduce equipment theft by over 70% since it was introduced in 2007. Additionally PANIU (the Plant and Agriculture National Intelligence Unit) have been able to recover, thanks to the security marking technologies within the CESAR System, millions of pounds worth of stolen machinery in this time.
These successes have led to the CESAR Scheme being cited as a major factor in the fight against plant theft over the past 9 years and resulted in it winning many prestigious awards.
Also to be showcased on The CESAR stand will be the newly launched Micro-CESAR system. Like the official CESAR scheme, it is made up of state of the art Datatag technology including warning/registration labels, RFID tags, Datadots and forensic DNA. This latest innovation has been launched to protect small tools such as power tools, cut off saws, hand held hydraulic breakers and compaction plates and is set to make a similar impact in the fight against crime as the CESAR Scheme. As an added bonus to this innovative new system is the stock management, helping track tools in and out of jobs and access on-line health and safety advice and user manuals through the unique QR code and mobile enable micro-CESAR website