Datatag Latest News
Tweet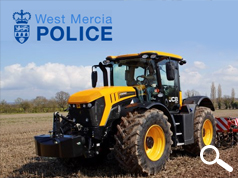 TRACTOR THEFT TRAINING IN SHROPSHIRE
Criminals involved in the theft of agricultural machinery in West Mercia policing areas are being warned they are being targeted as more officers are being trained to sport cloned or stolen machinery.
A JCB tractor has arrived today (Tuesday 14 June) at Shrewsbury Police Station and officers in Shropshire are being trained by experts, to help them spot the signs that a piece of machinery has been stolen or cloned.
Steve Loveridge, Crime Prevention Design Advisor for West Mercia Police said:
"We are very grateful to Rea Valley Tractors for the loan of their vehicle and our partners from Cesar and Datatag for their help with training the officers. It's the first time we have had this type of training and it's something we will look to continue doing.
"It is really important that as many officers as possible are trained in what to look for when they stop vehicles and to be able to recognise the tell-tale signs that something's not quite right.
"We have large expanses of rural areas in Shropshire and we are targeting criminals who think they come to the county and get away with stealing and cloning plant machinery."
For more information advice on reducing rural crime visit www.westmercia.police.uk/ruralmatters
West Mercia Police are committed to targeting criminals and taking action. If you are a victim of crime in a rural area or have any information on plant theft please report it - it will be investigated. Please call police on 101 or 999 in an emergency.