Datatag Latest News
Tweet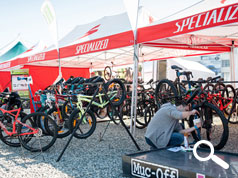 50,000 MARKS PROTECT BIKES AT A VALUE OF £100,000
Datatag has strengthened its partnership with the Bike For Life series in the Czech Republic for this season. This MTB series is absolutely unique and one of the biggest in the world and this season is the 17th in its history consisting of 16 races with an anticipated 25,000 riders participating. This series appeals riders from small kids to the Olympics champion Jaroslav Kulhavy. Details on www.kolopro.cz/en.
The patron and co-owner of this series is the world famous Arsenal goalkeeper Petr Čech. 
All bikes in the Specialized bike rental scheme are protected by the Datatag system and thieves would be fools if they attempt to steal protected bikes. Why? The bikes and components are protected by Datatag's unique multi layered anti-theft technologies.
 
What is about?
Visitors and riders may have already come across Datatag's identification marking technology in some races back in 2014 and 2015. The system is easy to fit as well as very effective in deterring theft. The principle of the protection it provides is that each bike is marked by approximately 1,000 Datadots on areas such as the frame, forks and all valuable components. The bike is then registered onto the international secure database with easy access by law enforcement and insurance companies.
The majority of the marks are not visible but a tamper evident warning label is placed on a visible frame tube to warn off potential thieves and inform them that the bike is protected and is practically impossible to legalize should it be stolen.
"In our bike rental scheme we wanted to offer high quality bikes from a prestigious brand, and obviously their value is quite high. Therefore we decided to protect them against thefts and component changes by a security system, that is effective, easy and affordable," explains Svatopluk Fořt, Bike For Life Manager.
Each bike in the bike rental scheme has its own unique marking and none will be repeated on another bike. Additionally, all bikes have a unique bar code that is used for bike use management. There is also a specific label with another unique number and information that the bike is protected by Datatag on upper side of the frame.
"We are proud to be a partner with Bike For Life and the growing phenomen that is mountain biking here in Czech Republic, and pleased to present proof that our unique technology is useful for cyclists helping protect them against theft," adds Michal Tuček, Datatag Manager in the Czech Republic.
Datatag have strengthened their partnership by offering a reduced price limited edition Datatag system available for all registered participants of Bike For Life series. Riders can buy it in Boutique Officiale or order online during registration process for each race.