Datatag Latest News
Tweet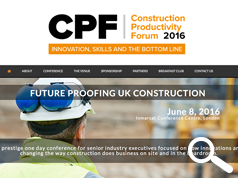 CESAR TO FEATURE AT CONSTRUCTION PRODUCTIVITY FORUM
The Construction Equipment Association (CEA) has announced their first Construction Productivity Forum which will be held on the 8th June 2016 at the International Conference Centre, City Road, London.
The CEA, one of the adopters of the official CESAR Scheme, the number one security marking system for construction and agricultural equipment, has invited Datatag ID to make a presentation at the event. Datatag provide the security system that manufactures fit to their machines and who provide the 'back-office' functions and support for CESAR.
The official CESAR Scheme was launched to combat the then 'million pound a week' headache of equipment theft in 2007. At the time equipment theft was growing and 'out of control' with recovery rates below 5% compared to stolen cars at 50%. CESAR, which now protects over 200,000 items of equipment, has made a major contribution to a 70% reduction in equipment theft with recovery rates now over 25%. The latest development by the CEA and Datatag, Micro-CESAR, is set to have the same effect protecting smaller items of equipment including hand held power tools, small generators and light compaction equipment.
The CEA's one-day conference for senior industry executives will focus on innovations which are changing the way the construction industry, which accounts for 6% of the UK's GDP, does business on-site and in the boardroom. This innovative event is expected to attract representatives from across the construction supply chain – from clients, regulators and government organisations to major civil engineering contractors, specialist contractors, plant hirers and equipment manufacturers and dealers.
Coventry based construction equipment manufacturer, and CEA member, TEREX has been announced as the event's Gold sponsor.
More information here! http://www.cpf16.co.uk/