Datatag Latest News
Tweet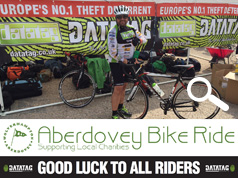 ABERDOVEY BIKE RIDE SUPPORTED BY DATATAG
The annual Aberdovey Bike Ride date has been announced as Friday 24th June 2016 and this year's event is supported by leading security technology provider Datatag ID Limited.
The 2016 Aberdovey Bike Ride 'kicks-off' at the Molineux Stadium in Wolverhampton at 07.00 on the 24th and the fastest of the 1,000 riders taking part are expected to cross the finish line, 105 miles later, in Aberdovey after just five hours! Those choosing to take on the A470/487 loop will add a further 25 punishing miles to their legs and no doubt will be very happy to see the finish line.
This fun event for recreational and serious bike riders alike is organised to collect sponsorship money benefitting 14 carefully selected local charities, including Cyclists Fighting Cancer, the Wolverhampton Multiple Sclerosis Therapy Centre, Sunfield Children's Homes, The Beacon Centre for the Blind and the Children's Cancer and Leukaemia Group to name just a few.
Datatag will lend logistical support to the ride and 6 of their staff, including Managing Director Kevin Howells, will be taking part in the cycling to raise money for the various charities. Kevin said, 'I managed (just) to complete the ride last year and was taken by the enthusiasm of the team running the event and that of the riders taking part – it's a really fun day.  It was an easy decision to be part of it again this year – I might even manage some training beforehand!'
The Aberdovey Charity Bike Ride has been run since 1992 and it has raised thousands of pounds for well deserved local and national charities. 100% of all the money raised reaches the charities as all of the operating costs for the event are covered through rider entry fees, with organisers and support crews giving their time free of charge.